Research and Waiting


The bird was left idle for the next four years. In the mean time, I did a lot of research for the restoration, and built a new 24'x32' garage/workshop.

The paperwork from the last owner showed that it had been sold to his father by Jim Dottling of Thunderbird Connection in Phoenix, AZ in January 1983. Prior to that, it was registered by Elmer Knitter of California in 1978. Receipts with the car also showed that it had a complete engine rebuild by Ryan Automotive of St Charles, IL in January 1986. Based on the remarkably rust-free condition, it clearly had been in California for most of the time since 1960.

The data plate reads: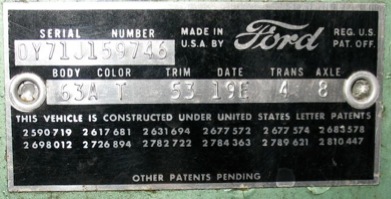 Serial Number
0Y71J159746
Body Color Trim Date Trans Axle
63A T 53 19E 4 8


This translates to:


Production Codes:
63A Thunderbird Hardtop
T Meadowvale Green
53 Green vinyl interior
19E Scheduled for production on May 19, 1960
4 Cruise-O-Matic transmission
8 2.91:1 rear axle ratio

Happily, the ROT sheet was found attached to the bottom of the rear seat cushion. After carefully removing it, I scanned it and show it here. Note the date of May 13, 1960.



The ROT sheets shows, in addition to the Model, Color and Trim codes in the VIN, the following options:


HT-AC 1 MagicAire heater
R 1 Radio
M 1 Power seat (drivers)
EL 1 Power windows
TG 1 Tinted glass
PS 1 Power steering
PB 1 Power Brakes
ENG J 430 c.i.
TRAN 4 Cruiseomatic
X 8 2.91 rear axle
FS-WC 1 Wheel Covers
TS 2 8:00 x 14
TT 1 WSW ?
SP 2 Springs ?
BAT 1 Battery ?


So the car's current color, Meadowvale Green is original. However the white hardtop currently on the car is not.

Tech Note: The book
Thunderbird Restoration Guide 1958-1966
by WIlliam Wonder is an excellent source for decoding data tags, ROT sheets, paint colors and general information on the birds.


VTCI

Another great resource for Squarebird owners is the Vintage Thunderbird Club International (VTCI). Besides the fellowship of other Thunderbird enthusiasts, members get a subscription to the Thunderbird Scoop, a bimonthly magazine. VTCI also publishes the
58-60 Original Factory Specifications
, (OFS), which is 350 color pages!
It is the authority on Squarebirds for concours judging - a wealth of information. Their website is
http://vintagethunderbirdclub.org
Squarebirds

Last but not least, squarebirds.org
http://www.squarebirds.org/
is an excellent source. The
General Technical Discussion - 1958 to 1960 T-Birds
and the
430 MEL Engine Forums
were invaluable in learning about my bird and how to work on it. I highly recommend joining as a full member. Thanks to the Squarebirds for hosting this web site!