EBay Purchase
In January 2004, a 1960 Thunderbird hardtop was listed on EBay. The owner was in Wheaton, IL so I called him and inspected the car in person. The temperature on that day was about 15° below zero, and the owner had some difficulty getting the bird started. Once it was running, I took a brief drive. My recollection is "no heat", "loose as a goose" and "scary handling". However, it appeared to be complete, solid, and quite rust-free. It also had the optional Lincoln 430 c.i. engine.

I watched the auction, and with about two minutes to go, bid $4000. Another bidder popped up and with seconds to go, I upped my bid to $4100. To my surprise, I won the car for $4050!

Here are some pictures from the original EBay listing. Obviously the owner had taken them some time earlier, when the weather was warmer.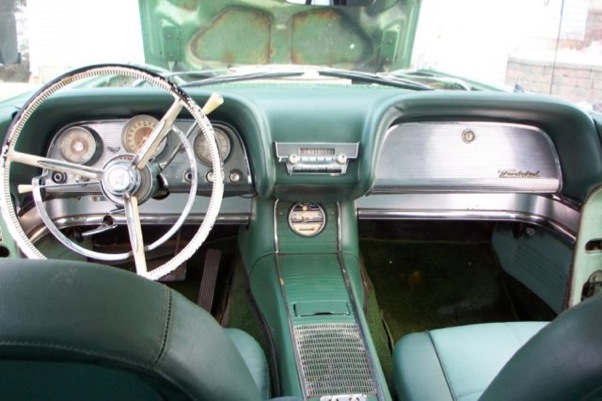 Delivery
I sent $500 via PayPal, and arranged to pay the balance on picking up the car. When the time came, I wasn't confident that it could make the trip from Wheaton to Downers Grove, so I arranged for a flatbed to deliver the car. The evening of January 20, 2004, it arrived.