A few opportunities with the rocker panels that I will be working on underneath .....
This is looking forward on the drivers side. Repairs will include the "bottom closure" pan for the rocker panels. Part of this is the forward part of the drivers floor pan as well.

This is a close-up of the rust spot in the previous picture.

This is looking into the rocker assembly from the rust spot pictured above. The top (forward) piece is the floor side of the rocker, the center piece with the holes is the inner brace.

This is another look into the inside of the rocker back from the previous picture at the front of the seat rail.

This is not part of the Titanic but a look down the rocker section. The view is from the rear driver's wheel looking at the inner brace.

This is another view taken from the same angle as the previous picture. In addition to the inner brace, you can see the convertible "L" brace at the top left. This is a reinforcement at the top of the rockers put in only for convertibles.

This is a third view showing the inner brace, part of the convertible "L" brace to the top left, and the interior rocker wall. The circle at the right of the intermediate appears to be part of the connection for the rear seat cross reinforcement.

The last inside view, this shows the convertible reinforcing section at the top of the rocker panel.

This is the passenger side rocker panel looking towards the front wheel. Looks a lot like the drivers side......

This is a shot of the passenger side mid-section of the rocker.

This is the end towards the rear wheel of the passenger side rocker.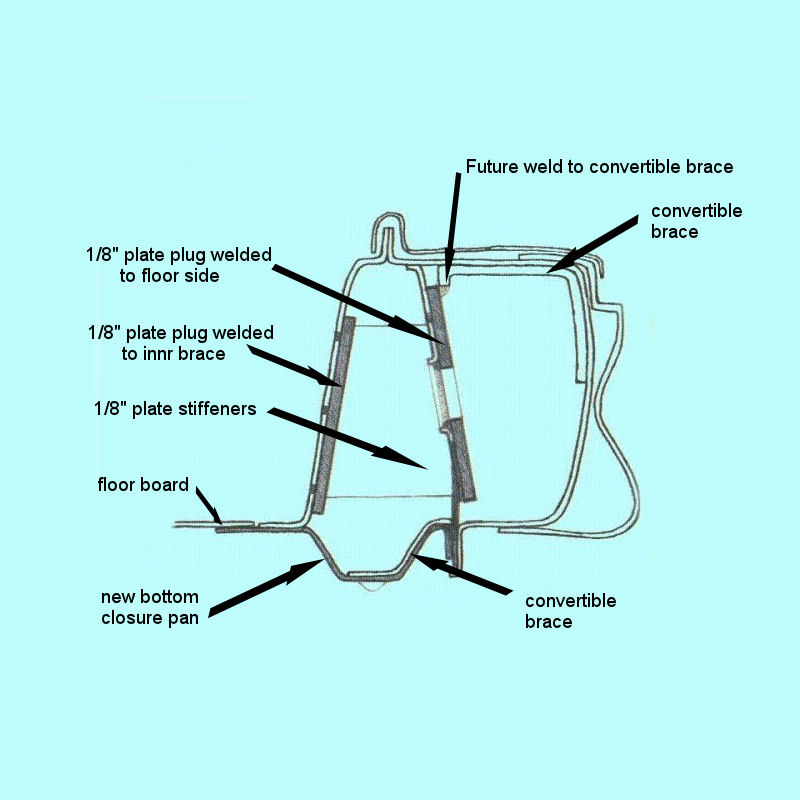 Check out the details for what I think I am going to do for rocker repairs.