I managed to make it to All-Ford Carlisle on June 1-3, 2007. My illness could not keep me away.
These are some pictures:
They had a rock obstacle course for 4-wheel drives. This is a Ford Bronco showing its stuff: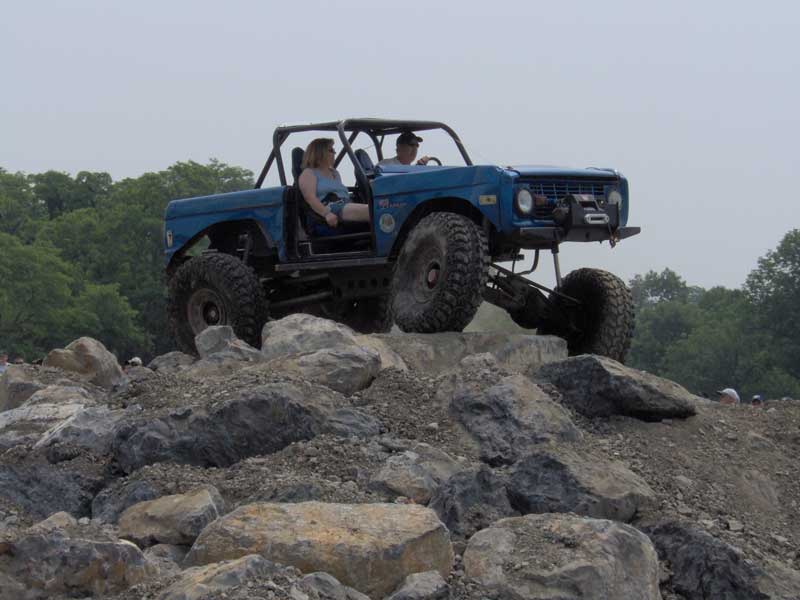 This is a Casino Cream 1959 Hard Top that was parked on the show-field:
That is my wife and me in front of the car. I was was one of the "Celebrity Judges" there, hence the name tag.
This shows the brake booster of the Casino Cream car. It is unusual in that it has the spacer for the booster, even though it does not have A/C. It is not the only 1959-1960 I have seen built like that.
That was the only Squarebird in the showfield! There were many 1955-57, 1961-63, and 1964-66, but only one Squarebird. There were two Squarebirds that I saw for sale in the car corral. Both were 1960 hardtops.
This car with no A/C was straight, but needed some work to be a show car. Asking price - $13,000.
This car was nicer - Skymist Blue with A/C. Pretty clean, but engine compartment needs a lot of detailing work. Owner says he has the original parts to make it correct. Asking price - $14,000.