The first steps in overhauling an engine involve stripping the block down to 'bare', baking/tanking to get it clean then Magnafluxing the castings. If you're doing these things, an engine machine shop is certainly involved because it cannot be done in 'your back yard'.
Scott briefly hit on the availability of certain parts. That's the main topic of this discussion because the price of an overhaul hangs on 'supply and demand'. A 430 rebuild isn't cheap and we know parts are either sp****ly available or custom made.
I made the mistake of depending on an engine machine shop to buy pistons once. They bought +.060" over standard. I asked, 'WHY?' They simply said, that's all they could find. So, my Y-Block has heavy pistons that require Mallory metal in the crankshaft. That added $100 extra to the build. Never again.
The machine shop's job is to inspect and measure the bores and the crankshaft mains and pins. Then, recommend the correct bearing and piston sizes. Normally, the machine shop orders the parts since time is money. They order whatever is most convenient for them, not for the customer.
Most overhauls require block boring. How much boring depends on the condition of the bores. There is no 'standard' overhaul size so bores are measured. Regardless of who orders pistons, they need to be there FIRST, before the cylinders are honed and brushed
to the size of the new pistons
.
Scott knows that I used +.030" only as an example. The real size required in your engine overhaul may be +.020" or +.040". Truth is, the value must be 'something' and probably not 'standard bore' (+0.000"). I used +.030" as an example to get a price for a set of Wiseco pistons. So, the piston price for your build may be less or more but not by much.
Get your ducks in a row. Rings, bearings, timing set, gasket set, etc., are all parts that must be there to complete the build. As I said, many parts for the 430 are not available or they are custom made. Moly (or chrome) rings were not used on stock Bulldozers so they may need to be custom ordered. These are simple coatings on cast iron rings that extend their life. Ford uses Moly rings in their modern engines and I use them whenever I overhaul. Again, cost is slightly higher and you may need to wait but not long.
Hastings Piston Rings are my choice. They are located in Hastings, Michigan and very convenient for me. They are super easy to deal with and very accommodating. I broke a top ring once, installing it. They overnighted a new one to me for free. With that service, I will not buy another brand.
I know plenty of Michigan farmers who installed new rings in their Ford 8N tractor, right out in the field. I know restorers who painted their custom classic in their garage. Expensive facilities are always best but not the only solution. Hire the professionals for work you cannot do but know that time is money and overhead/employee expenses are in their price.
If you can pull the engine, why not? If you can strip it down, why not? If you can use a tap to chase all the holes, do oil hole modifications and weight-match your own pistons & rods, why not? These are simple tasks an engine builder charges a lot of money for. To keep costs down, machine shops simply don't do any of this in a 'standard' overhaul.
Once I get all the parts together, while the block is being worked on, it's time to balance. Weight match the pistons, then the rods, then both together. Then send one complete piston & rod set (including bearings and rings, wrist pin and keepers) to the crankshaft balancer. I also include the harmonic balancer and flex plate with my crankshafts. When he's done they usually supply before & after balance sheets to show exactly what was and is. A typical crankshaft job usually costs about $125, and well worth it.
Here's a helpful tip: A good engine machine shop is meticulous in cleaning all chips and debris out of the castings before delivering to the customer. After stripping down to the bare block, use a tap to chase all the holes. You will be surprised at how much nicer bolts go back in. If you can, do your oil hole modifications now. The old bearings and gaskets will show where to grind. Look at my close-up insets on the top of this picture: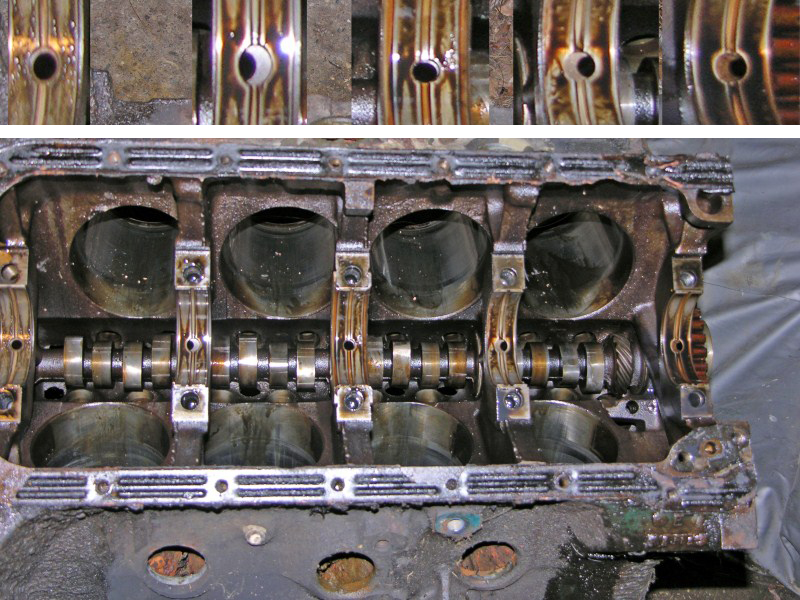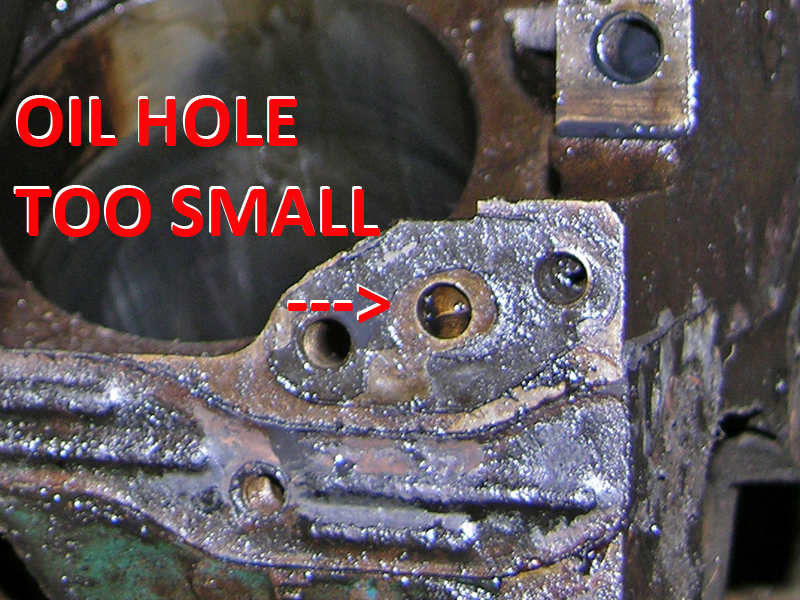 This is the oil pump mounting.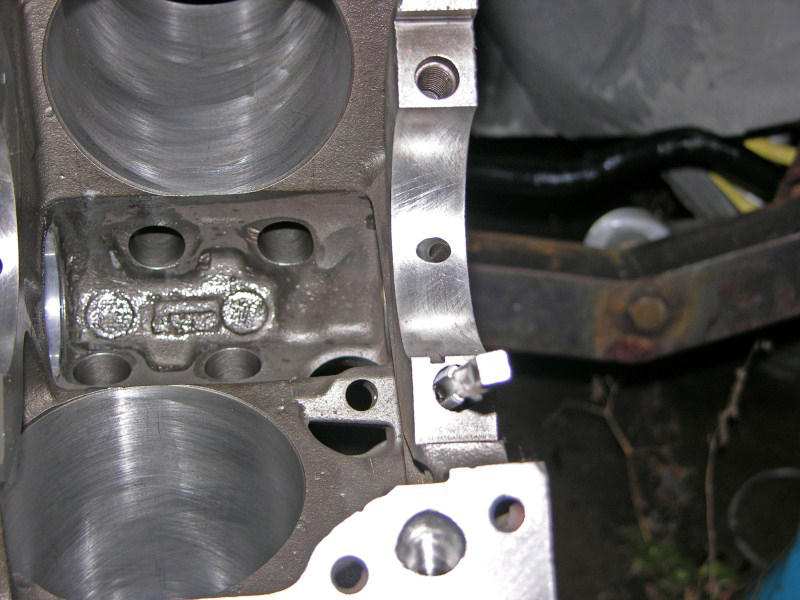 Notice the bearing saddle hole, the oil pump hole and a tap in the threads. Use a simple burr before the machine shop does their final cleaning. Remember the guy who bought FOUR sets of hyd. roller lifters? His 'highly respected' FE builder didn't make sure the block was clean.
Many restorer/members here regard their car as a fun project. Rather than hiring someone else's time, this may be perfect for learning, teaching and spending time with the younger ones. The final product is vastly rewarding. - Dave