I wanted to take a moment to say hello, and introduce my newly acquired 58' T-Bird.
This whole story started about 20 years ago when my uncle restored a 59 coupe. It was white on red with matching interior. I was about 10 years old at the time and was completely infatuated with the car. I remember visiting my aunt and uncle and spending hours just sitting in that car daydreaming… I will never forget how the interior of that car smelled…
Years passed, the T-Bird sold and I grew into real car guy, I've owned and restored several old cars; 67 Galexie, 67 Firedbird, 70 Buick GS and 71 Skylark, but I always had it in the back of my mind that one day I would own a squarebird.
Like most things in life that we look for, they tend to find us when we're not looking. This past Thursday night I was perusing craigslist when I happen to come across the ad for this T-Bird. The ad was all of one sentence long with really bad pictures, but something told me to give it a shot. (maybe it was the $1000 OBO price tag) I contacted the owner and that Saturday afternoon I took the hour long ride up and picked up the Bird!
As you can see from the pic she needs allot of work. The body is fairly solid, but the floor and trunk pans will need to be replaced. She also doesn't run and has no brakes. I managed to walk away paying $675 for her and the previous owner was happy that she was going to a good home.
Here I stand as the proud new owner just moments after finalizing the deal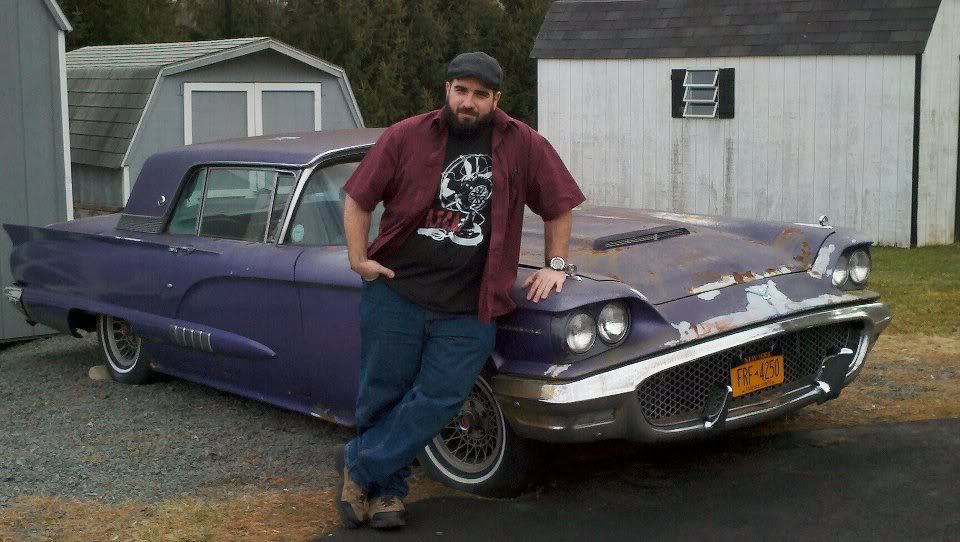 Here I am checking for rust. The driver's side inside rocker will need to be repaired, but the passenger side is solid. (Really not too bad for a North East car)
The seats look to have been redone a very long time ago with incorrect upholstery. There is some trim pieces missing and the radio and console speaker are missing.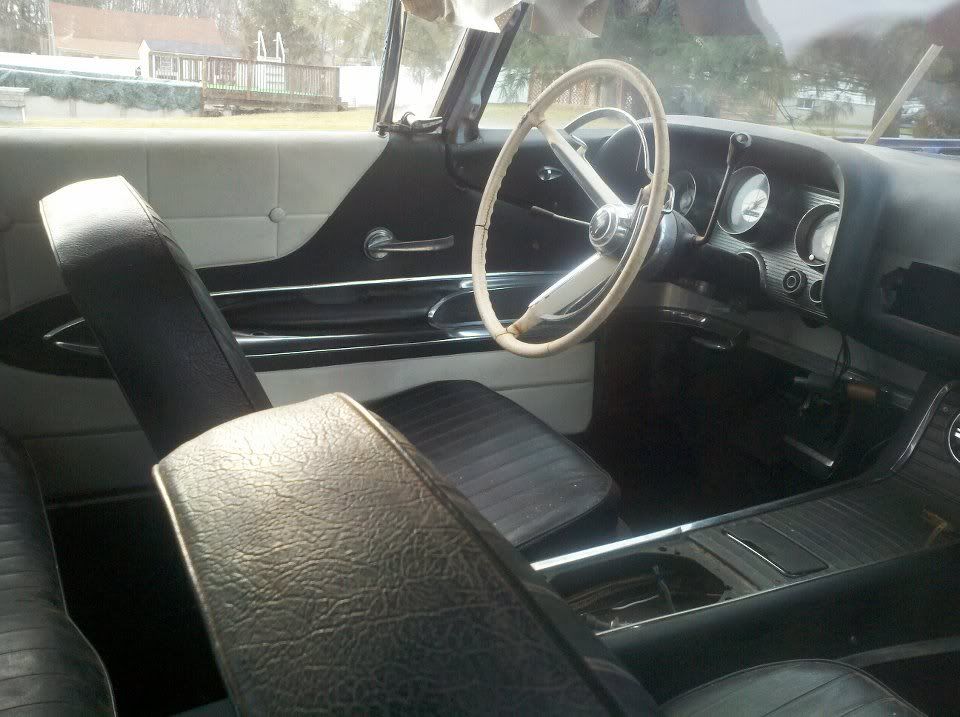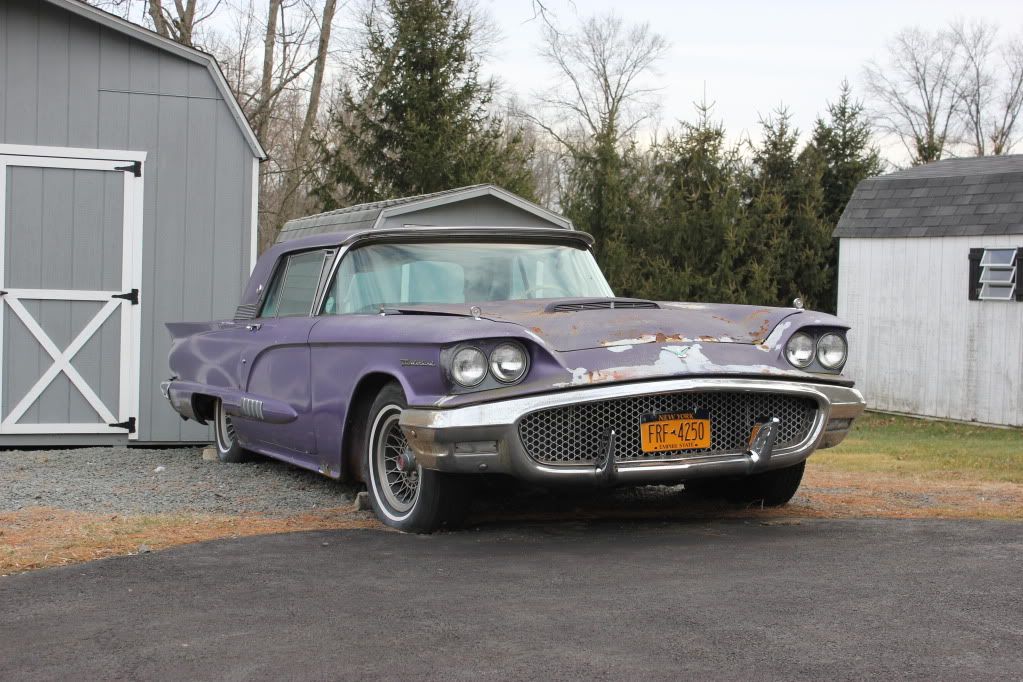 I know these birds sit low and sit even lower as the springs age, but I have a feeling the springs were cut on this one.
I was happy that the bumpers were in pretty good shape – less work for the chromer.
Looks to have its original 352 and COM transmission. The odometer says 45,000 but who knows if that's true. I'm a little disappointed that it didn't have its air cleaner but I'm sure that can be sourced. Would any of you know if this air cleaner was also used on other Fords?
By the time the flat bed arrived to my house it was night, but the moon was bright so I decided to pull my tripod out and take this shot.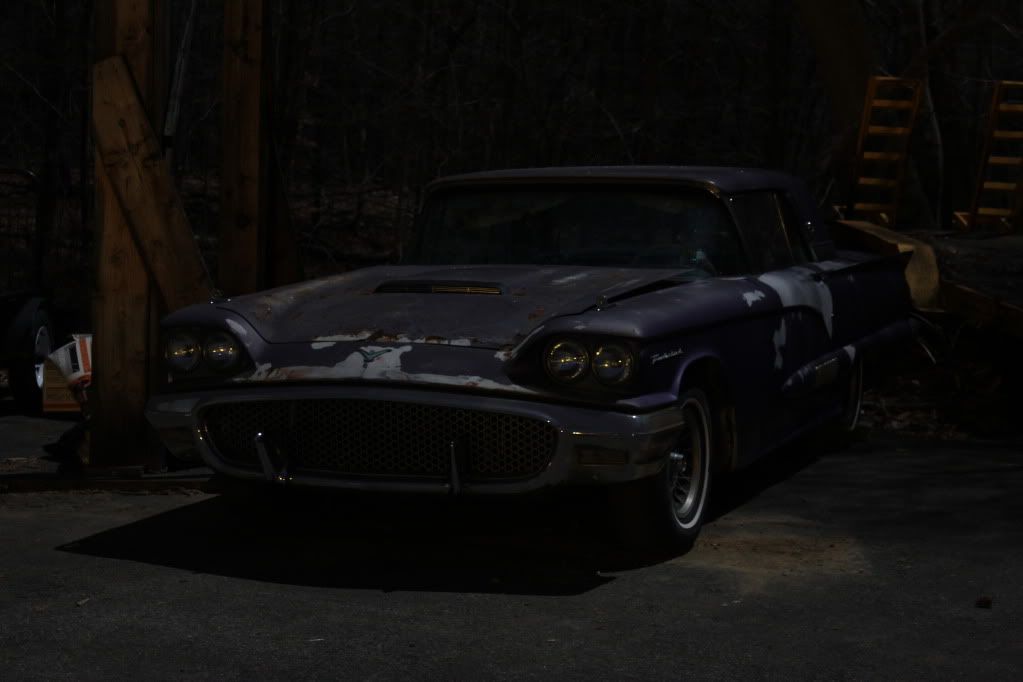 So that's it so far. I'm glad to be part of the community and look forward to making new friends and to embark on this project. Any fellow squarebird owners in or around Westchester County, New York?