---
1958 1959 1960 Thunderbird Detent Plate
This plate replaces your worn 1958-1960 Thunderbird detent plate (Part number B8S-7A216-A, or B9SZ-7A216-A). This is for all cars equipped with automatic transmissions. This will keep your automatic transmission lever more securely in park and make gear selection less vague.
The plate is made from .089" low carbon mill steel cut by CAM (computer-aided machining). It is a bolt-in replacement that fits on the shift flange ( B8S 3511-B ) as shown below.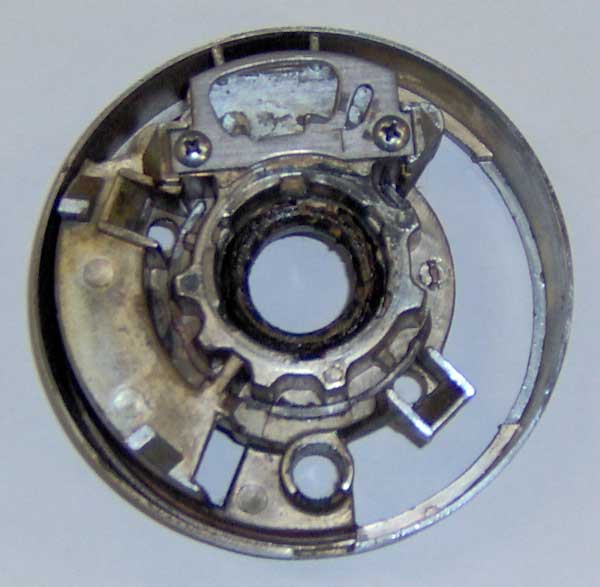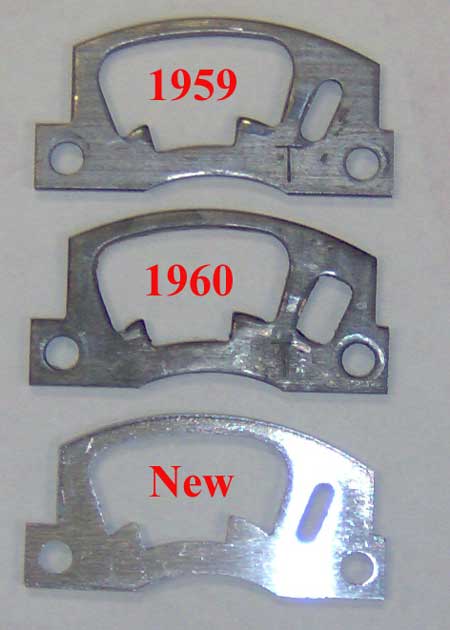 The new detent switch fits all styles of detent plates from 1958 to 1960. It is better than the originals and more precision cut on a laser CNC machine because it is not a stamping. The slot for 'Park' is precisely the diameter of the shift lever end to keep your car more firmly in park.
Detent plate is made in USA.
We recommended that the socket assembly (steering collar) for the gear shift lever (part number B8S 7228) and the gear shift lever (part number B8S 7210) and bushings(parts numbers B8S 7246-A and B8S 7335) also be replaced to restore the shifting action to like new. If the end of your gear shift lever is worn or the hole for the roll pin on your gear shift collar is enlarged or oblong this detent part alone will not cure your sloppy gear shifting. The shift collar and gear shift lever can be bought in reproduction from from many of the vendors on our links page. The B8S 7246-A usually comes with the shift handle or you can get it from www.FalconParts.com or Mac's Auto Parts.
Comments from satisfied customers:
I installed mine and the car LOCKS into park now! It's great.
There is an audible click and you can feel it engage the detent plate. Much more secure and safe.
...the shifting ain't sloppy anymore.
Thanks to this item I bought from you, it works perfect. Park is no problem anymore.
...awesome! I installed my shift plate tonite. My car now CLICKS into every gear.
...The detent plate is first class. I am very happy with the improvement. I wish everything would work that well.
Installed my plate today, actually was not difficult and went smooth…seems to click into place really nice, mine was not in bad shape at all being low mileage (19,000 miles) but changed it anyway. … yours was a better design to start with.
Wish Ford would have made this part this good!!
You can buy the detent plate by clicking on the PayPal link below. The cost is $27.00 plus $6.00 shipping for anywhere in the continental US. Shipping elsewhere is extra cost, please add note when purchasing to obtain cost to ship to your destination.
Instructions for installing this part can be found here.
To pay by check, please send $27.00 plus $6.00 shipping to:
Marianne Woloszyn
PO Box 754277
Forest Hills, New York 11375-9157