| | |
| --- | --- |
| SirBB | 07-07-2016 08:41 PM |
---
Serial number tag

I'm about to buy a 1960 Thunderbird, I have looked a few times and have its a good buy. It does have one thing that bothers me, the Sr number tag is not original, anybody have any insight to this? See picture. Can I get a replacement for this?
IMG_0246.JPG
I'm going to take one more look at it tomorrow, are there any suggestions for specific things to look at.

The car barely runs, but overall is very complete and clean, I'm not to worried about the running part, but it does need a windshield, tank, AC rebuild, and gas tank, is there any concern with getting these parts or others?
| | |
| --- | --- |
| jopizz | 07-07-2016 08:54 PM |
---
Your photo is not showing up. Since you are not a paid member you need to upload your photo to an external hosting site and put in the complete address. If the serial number tag is not original I would be concerned that the VIN on the tag doesn't match the car. The serial number is stamped on the passenger side inner fender well. If the tag doesn't match that number then there's a big problem.

John
| | |
| --- | --- |
| YellowRose | 07-07-2016 09:00 PM |
---
Serial number tag

You can send that picture to me, also, and I can post it for you. If you use a website like photobucket, though, you must keep your picture to no larger than 800x600 pixels. Also, you should click on the link to the Technical Resource Library (TRL), go down to the bottom of it, find the Vehicle Check List and print it out. Put it use in evaluating that Tbird. Do what John said, see if you can find that VIN # in the engine bay. If so, compare it to the VIN # on the Data Plate. If they are not the same, you might want to run as fast as you can away from that car... As for parts for it, there are many Tbird parts houses across this country. Look in the Advertisements Forum for them if you buy that car or any Tbird. The link to the TRL is always part of my and jopizz's signature element. Click on it and check things out..
| | |
| --- | --- |
| DKheld | 07-08-2016 07:47 AM |
---
Probably why it's such a good buy :eek:
You can't see the s/n on the cowl without removing the cowl panel but the s/n on the inner fender apron should be easy to see and should match the door plate.
Eric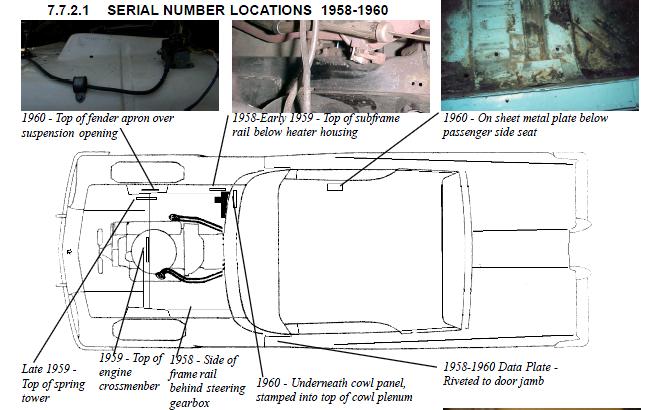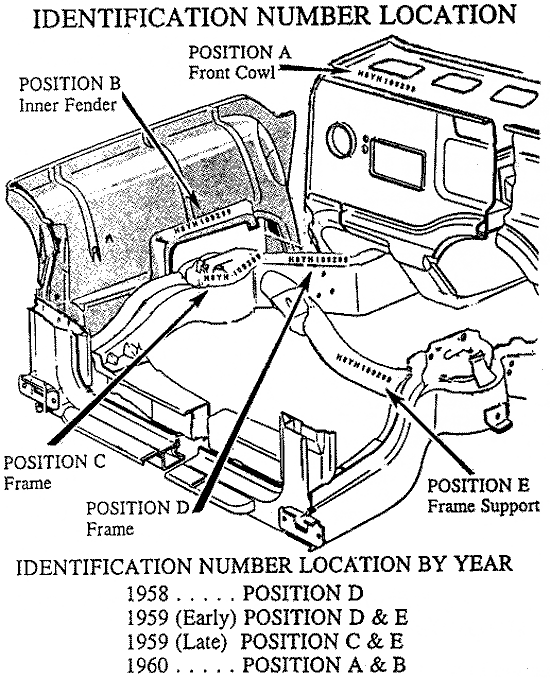 | | |
| --- | --- |
| SirBB | 07-08-2016 07:01 PM |
---
Thanks allot, I will update on my findings. :):)
| | |
| --- | --- |
| Restifier52 | 07-08-2016 07:50 PM |
---
What would mismatched numbers suggest? Stolen car? Or something else? I'm so naive...
| | |
| --- | --- |
| YellowRose | 07-08-2016 08:26 PM |
---
Serial number tag

Mismatched VIN #'s could indicate that a car has been stolen and is being passed off as a legal one. It is not difficult to buy a replacement Data Plate, with a different VIN # on it and information. It is important, when considering buying a classic car, to check the Data Plate VIN # against the VIN # stamped into the body of the car... if you can find its location.. That information is in the TRL. Mismatched VIN #'s could also indicate an attempt to pass the car off as something other than what it was when it left the factory. Like taking a 1962 Bulletbird and making it appear to be the Sports Roadster, by modifying it in all ways to appear to be one. Including having a Data Plate with a VIN # from within the range of VIN #'s that were used only for the Sports Roadster. There have been any number of fake Sports Roadsters that have been attempted to be passed off as such that were not that model... Why? Because you can make a lot more money from selling a Sports Roadster, especially if it is a REAL one, or.... one made to look like a real one... There were only 1,427 1962 Sports Roadsters ever made, but, according to this report, there seems to be more of them on the road these days than were ever made! Read this regarding that.
http://automotivemileposts.com/prod1962tbird.html#how
| | |
| --- | --- |
| Tbird1044 | 07-08-2016 09:29 PM |
---
Ray:
Interesting point. My data plate is really messed up and I would like to get a new one (with the same numbers of course). I found some sources that had some that were close in design and a lot for Mustangs, but do you know of anyone that will replicate a plate for our Birds? I already have new OEM rivets to replace the plate, as I removed it when I took the car in for paint.
Thanks
Nyles
| | |
| --- | --- |
| YellowRose | 07-08-2016 10:46 PM |
---
Serial number tag

Nyles, there are two possible sources that I know of. Try these.
Reproduction Data Plates
http://www.martiauto.com/
I do not know if they are still in business, but you can also try this one. Their website is still working, as is Marti Auto.
http://www.datatags.com/
| | |
| --- | --- |
| SirBB | 07-09-2016 09:52 PM |
---
So the serial number on the plate and on the fender skirt don't match, everything is the the same 0Y71Y but Unit Number s are different. The title matches the number on the door plate.

I'm not looking for a car to build for value or collect, I'm building a daily driver for my daughter, I'm gonna make sure its mechanically sound then she gets to take over.

So anymore thoughts on these numbers not matching?

is there a registry where i can look up both numbers to see if either number is associated with anything odd (car stolen, destroyed, MIA, etc?

Beyond this being odd, I thing I'm not gonna let it stop me , the car has alot of of potential, it runs, has OK interior, OK paint, and the guy selling has been very upfront about little things he thinks it needs, some I would have missed. at $3500 I don't think I can go wrong.

I'm sure i will be looking for help and advise so y'all will probably hear back from me.
All times are GMT -4. The time now is

05:24 AM

.
Powered by vBulletin® Version 3.6.8
Copyright ©2000 - 2018, Jelsoft Enterprises Ltd.
Any submissions to this site and any post on this site becomes property of Squarebirds.org . The webmasters reserve the right to edit and modify any submissions to this site. All material on this is site is copyrighted by the Squarebirds.org. Reproduction by any means other than for personal use is strictly prohibited. Permission to use material on this site can be obtained by contacting the webmasters. Copyright 2002-2016 by Squarebirds.org.