| | |
| --- | --- |
| Hazegray53 | 01-23-2016 09:34 PM |
---
Scarebird disk brake install problem

I'm installing the scarebird setup on my 1960 Sunliner. I bought the parts that are listed on their parts list. 68-69 mustang rotors (raybestos part# 6006), and 83-92 s10 calipers (raybestos part# rc4125 and rc4126). The problem is, once I get it all installed it looks like the outside brake pad will never make contact with the rotor. And, the inside pad is right up against the rotor with the piston fully retracted. I have the spacer that came with the brackets installed and it seems like the rotor is in the correct position. I'm not sure if I'm just doing something wrong or have the wrong parts. Please help! If you have any suggestions.
| | |
| --- | --- |
| jopizz | 01-23-2016 10:27 PM |
---
It looks like they have two different brackets listed for 57-68 Fords. One has a GXY code and uses the rotors and calipers that you bought. The other has a SUN code and uses Previa rotors and Celebrity calipers. Are you sure they sent you the correct ones.

John
| | |
| --- | --- |
| Hazegray53 | 01-23-2016 10:56 PM |
---
I received the GXY code brackets. At least that's what's etched on the brackets.
| | |
| --- | --- |
| jopizz | 01-23-2016 11:34 PM |
---
1 Attachment(s)
You have the correct rotors and calipers for the GXY brackets. My suggestion is to take pictures of your installation with and without the rotors and calipers in place and contact scarebird and send him the pictures. He should be able to tell you what is wrong. Here's a picture from Marcello's install. Squarebirds use the same brackets so yours should look the same. Here's the link to the entire thread. There are lots of pictures to compare yours to.
http://www.squarebirds.org/vbulletin...ad.php?t=12914
John
| | |
| --- | --- |
| Hazegray53 | 01-24-2016 12:17 AM |
---
Ok thanks. The calipers that I have look a little bit different than those pictures. I guess I'll have to wait until Monday and talk to scarebird.
| | |
| --- | --- |
| simplyconnected | 01-24-2016 09:54 AM |
---
Tom, I sent you the link to my Galaxie-Scarebird retrofit in a PM on Jan 8th. Your calipers should fit on the Scarebird brackets like this: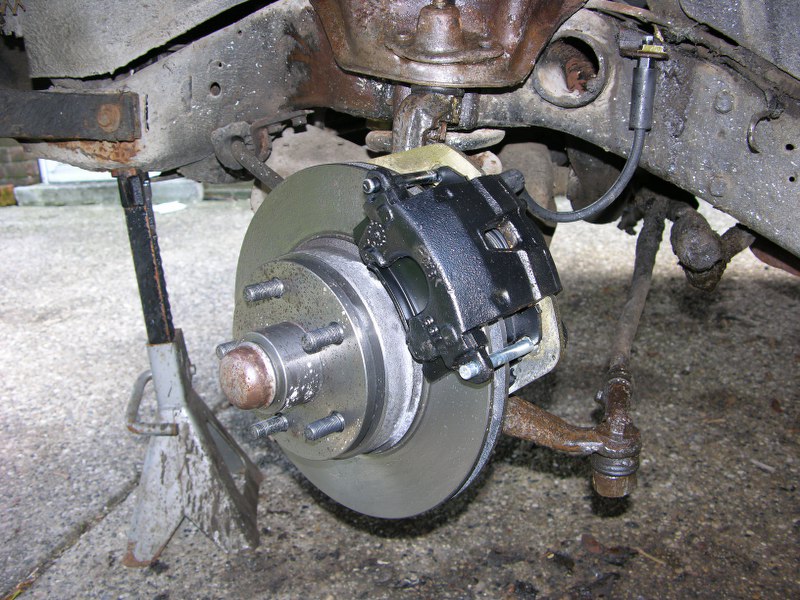 I'm using all the same parts you described.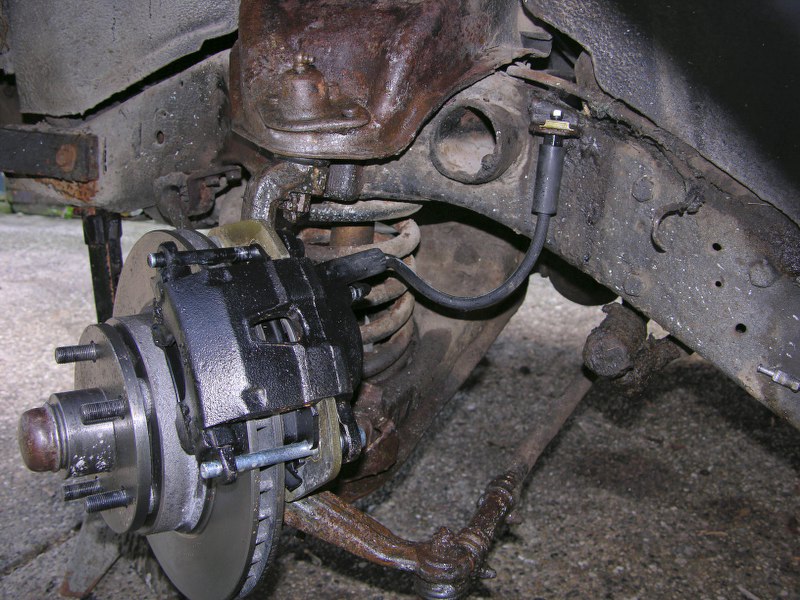 S10/S15 calipers come in two flavors, one for two-wheel drive and the other for four-wheel drive. Mine happen to be for 4WD but it doesn't matter. The difference is where the brake hose port is drilled. Mine is on the back and 2WD is on the end. Either one works as well as the other and I have no preference.
One last consideration:
Make sure your calipers have the rubber grommets and bushings. If you bought 'loaded calipers' they should come with everything. If you simply bought (bare) calipers and (bare) pads, you need the caliper bolt kit from your auto parts store. Check it out on
my brake site
, picture #25-6:
- Dave
| | |
| --- | --- |
| Hazegray53 | 01-24-2016 01:04 PM |
---
2 Attachment(s)
I have definetly been using your site for reference. I appreciate that. I bought loaded calipers so I'm pretty sure I have everything. Maybe it will make a difference when all the lines are hooked up and pressure is applied? I just don't see how that outside pad will make contact. It's about 1/4 inch away and there's no way the caliper can move any more inboard. Here's pics of what I've got.
| | |
| --- | --- |
| jopizz | 01-24-2016 02:46 PM |
---
According to what you are describing the rotor needs to come out farther to hit the outer pad. It looks like you are maxed out on the spindle from what I can see. Even with the piston fully retracted I don't see how you can have 1/4" gap. Looking at Dave's picture it looks like the caliper is right up against the bracket. There's also more bolt showing than in your picture. In your picture it looks like there's a gap. Is there something preventing it from going closer to the bracket.

John
| | |
| --- | --- |
| Hazegray53 | 01-24-2016 04:27 PM |
---
Well it seems the problem here is me and lack of experience. now that I have it all together again and figured out how the system operates it looks like it will all work just fine. Thanks for all the help! I'm sure I'll be back on here again when I start running brake lines and have the power booster and master to install.
| | |
| --- | --- |
| jopizz | 01-24-2016 04:35 PM |
---
Experience is a great thing. It's just a shame it's wasted on us old people.


John
All times are GMT -4. The time now is

05:16 AM

.
Powered by vBulletin® Version 3.6.8
Copyright ©2000 - 2018, Jelsoft Enterprises Ltd.
Any submissions to this site and any post on this site becomes property of Squarebirds.org . The webmasters reserve the right to edit and modify any submissions to this site. All material on this is site is copyrighted by the Squarebirds.org. Reproduction by any means other than for personal use is strictly prohibited. Permission to use material on this site can be obtained by contacting the webmasters. Copyright 2002-2016 by Squarebirds.org.