| | |
| --- | --- |
| Hazegray53 | 01-08-2016 05:07 PM |
---
Upper Control Arm Bumper

I just about have the front suspension back together on the 60 Sunliner. Where exactly does the Upper Control Arm Bumper attach to? It definitely did not have one installed on either side when I took it all apart. The illustrated parts book shows the part but I can't find anything that says or shows where it would be installed. This seems simple but it has me confused.
| | |
| --- | --- |
| jopizz | 01-08-2016 09:27 PM |
---
1 Attachment(s)
It looks like it goes through the back hole of the ball joint.

John
| | |
| --- | --- |
| simplyconnected | 01-08-2016 11:00 PM |
---
That's right. The rubber is offset from the stud. After years of service, the rubber rots and the bumper falls off. Many Ford cars used this same rubber bumper, so it is available.
Several of our members cautioned about installing it before connecting the ball joints. There is more clearance if you fish it in AFTER the ball joints are in place and assembled. Simply raise the car under the shock then install the upper bumper.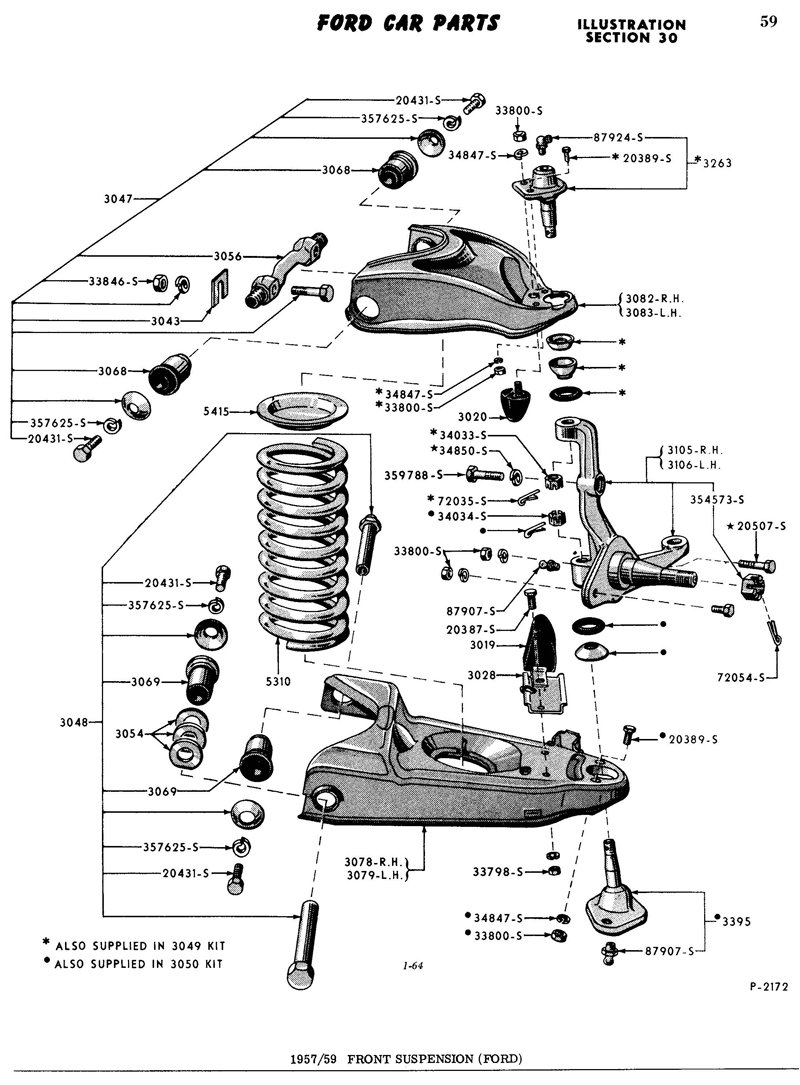 | | |
| --- | --- |
| Hazegray53 | 01-08-2016 11:03 PM |
---
That's what I was originally thinking but my electronic copy of that illustrated parts book doesn't have that nice little dotted line showing it go through the ball joint mount and I really didn't think it would be sufficient for keeping the ball joint properly attached. My new ball joints also came with 3 bolts and nuts so I think that threw me off too. I'll have to go back and look at the old ball joints. And, I'll have to see if this new bumper has enough thread on it to make it through the arm and the ball joint. I'm sure it will. Thanks for that pic! Makes things much more clear.
| | |
| --- | --- |
| Hazegray53 | 01-08-2016 11:10 PM |
---
Well my ball joints are definitely already installed so I shouldn't have too much trouble getting the bumper in there. Of course I've said that with every part of my project and nothing's ever that easy haha.
All times are GMT -4. The time now is

02:32 PM

.
Powered by vBulletin® Version 3.6.8
Copyright ©2000 - 2018, Jelsoft Enterprises Ltd.
Any submissions to this site and any post on this site becomes property of Squarebirds.org . The webmasters reserve the right to edit and modify any submissions to this site. All material on this is site is copyrighted by the Squarebirds.org. Reproduction by any means other than for personal use is strictly prohibited. Permission to use material on this site can be obtained by contacting the webmasters. Copyright 2002-2016 by Squarebirds.org.