| | |
| --- | --- |
| Wingman65 | 12-02-2015 09:04 PM |
---
New Gas Tank Install

Getting ready to install new gas tank on 63 bird. What do you guys do to your new tanks as far as paint, undercoating or just naked. Are these tanks coated to protect from rust? Thanks for any suggestions.

Tony
| | |
| --- | --- |
| jopizz | 12-02-2015 09:36 PM |
---
The new tanks are coated to prevent rust. I don't put anything on mine. Some people like to undercoat them so they look like they came from the factory.

John
| | |
| --- | --- |
| simplyconnected | 12-03-2015 12:23 AM |
---
Marcelo did a great job on his new fuel tank install. I will let his posts speak for themselves but I highly suggest you ground your tank as he did his.
CLICK HERE
- Dave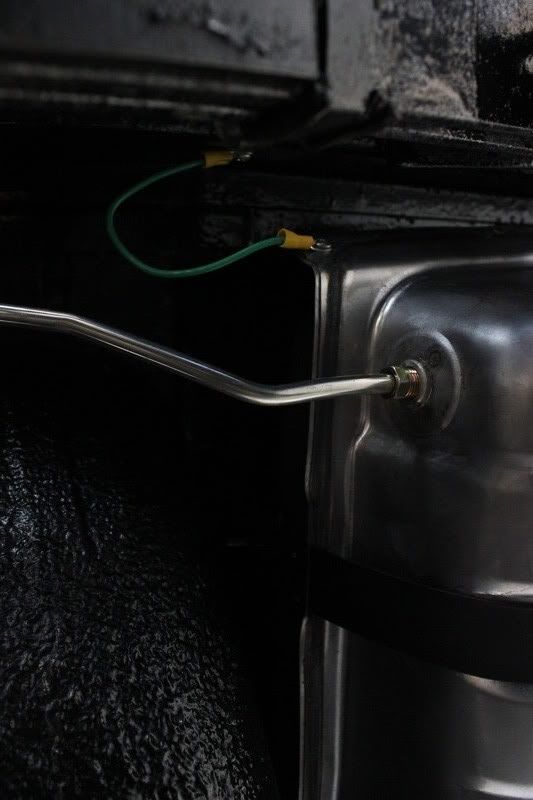 | | |
| --- | --- |
| Wingman65 | 12-04-2015 08:08 PM |
---
Thanks for the input, I do like the looks of the shiny new tank.
| | |
| --- | --- |
| simplyconnected | 12-04-2015 10:45 PM |
---
If you like the looks of bare metal you can always clearcoat it, like some folks do their transmission.
| | |
| --- | --- |
| Yadkin | 12-05-2015 11:35 AM |
---
Most of the new steel tanks are made from "ni terne steel" which is electroplated nickel, followed by a hot dipped plating of 92% lead and 8% tin. There is no need to paint it or coat it, and it may outlast all of us. I don't know if paint will stick to it.

I like the idea of grounding it though.
| | |
| --- | --- |
| simplyconnected | 12-05-2015 02:58 PM |
---
Steve, for two hundred bucks you're getting drawable steel that's tin coated on both sides, then seam welded and leak tested. Spectra Premium tanks are manufactured according to original equipment specifications. Canada isn't going to allow lead and nickel is too hard to deep draw, and that's consistent with how the original fuel tanks were made at Ford.

You can see from Marcelo's tank, it paints nicely and it looks great. - Dave
All times are GMT -4. The time now is

02:57 AM

.
Powered by vBulletin® Version 3.6.8
Copyright ©2000 - 2018, Jelsoft Enterprises Ltd.
Any submissions to this site and any post on this site becomes property of Squarebirds.org . The webmasters reserve the right to edit and modify any submissions to this site. All material on this is site is copyrighted by the Squarebirds.org. Reproduction by any means other than for personal use is strictly prohibited. Permission to use material on this site can be obtained by contacting the webmasters. Copyright 2002-2016 by Squarebirds.org.