| | |
| --- | --- |
| Alexander | 03-27-2006 05:55 PM |
---
Why you need a new detent plate for your 61-63 T-Bird

A friend of mine had his 1962 Thunderbird pop out of park into reverse at idle this weekend. Luckily no one was hurt and the car did not sustain major damage. The door took the brunt of the crash.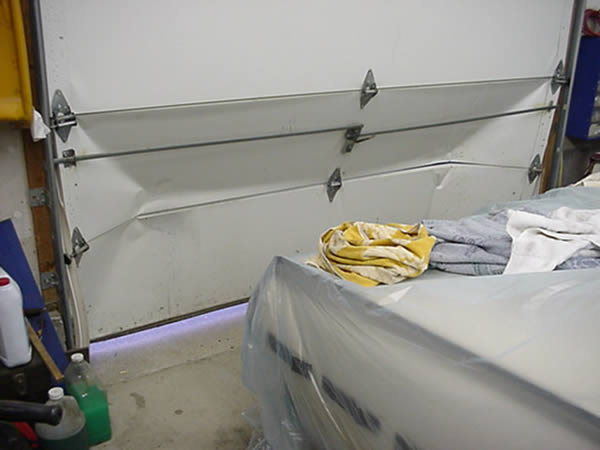 I plan on making an improved 61-63 Thunderbird detent plate similar the 58-60 one I have already produced.
If anyone has new or used one lying around please send it to me. I expect to be able to make a new part in about two to three weeks. In exchange you will be the first to get a new 61-63 detent plate free-of-charge.
Alexander
1959 Hardtop
1960 Golde Top
| | |
| --- | --- |
| Alexander | 06-05-2006 10:05 PM |
---
RE: Why you need a new detent plate.

This part is now available. See the ad in this month's Hemming's.
It is $30 plus $2 shipping.
Send check or money order to:
Alexander Sosiak
PO Box 754157
Forest Hills, New York 11375-9157
This plate replaces your worn 1961-1963 Thunderbird detent plate (Part number 7A216). This is for all cars from these years equipped with automatic transmissions. This will keep your automatic transmission lever more securely in park and make gear selection less vague.
This is not a reproduction. It is better than the original Ford part.
The plate is made of .089 inch low carbon mill steel cut by CAM (computer-aided machining). It is a bolt in replacement that fits on the shift flange ( 3511 ) as shown below.
The detent plate has an added stop made out of a 4-40 thread stainless-steel bolt and nut that is threaded into the detent plate and secured with cyano-acrylic glue. This is higher off the face of the plate and less likely to wear round with use than the original Ford stamping.
The new detent switch fits all styles of detent plates from 1961 to 1963. Made in USA. It is better than the originals, if you can find one, as it is precision cut on a laser CNC machine. It is more precise and fits better than the original stamping. The slot for park is precisely the diameter of the shift lever end to keep your car more firmly in park.
You can order it online at
http://www.squarebirds.org/detent_thunderbird61-63.htm
Alexander
1959 Hardtop
1960 Golde Top
| | |
| --- | --- |
| luGnutz62 | 09-19-2006 01:48 PM |
---
RE: Why you need a new detent plate.

Hello Alex,
While conducting an inquiry about technical information, the Squarebirds website and your product were recomended by Alan Tast.

I just ordered and received a Detent plate. Thanks very much for the prompt shipment. Keep up the good work.

Do you have specific instructions for replacing the plate on the 61-63 'bird? The website download appears to be for the 58-60 version. I've started disassembly and got to the turn-signal switch mechanism and stopped, shot a digital picture to record assembly but thought I would play it a bit more conservative and ask before digging in any deeper.

This is my first T-Bird. I picked it up last year and had some brief fun with it, but this detent-plate problem and other suspension work necessitates that I now get serious about working on the car. I look forward to the adventure.

I joined WaterWOnderland T-Birds, a local T-Bird club and also the national club VTCI to obtain a better understanding of the vehicle, it's history and invlove my wife and I with other T-bird folk.

Hopefully down the road I will be able to attend some of the various activities with the car and our paths may cross.

Best regards,
George

| | |
| --- | --- |
| Alexander | 09-19-2006 02:50 PM |
---
RE: Why you need a new detent plate.

George,

Wow, Alan Tast recommended my site and my detent plates! That is quite a compliment.

To make up the replacement 1961-63 detent plate I bought a shift lever, shift collar and shift flange and a variety of different 1961-63 detent plates, to make sure the replacement one would fit right and work right.

I only have a 1959 and 1960 Thunderbird, and have not put in a detent plate in a 1961-63, but looking at the parts, it does not seem that there is much difference in how they are assembled.

I would appreciate it very much if you would document your installation with pictures. I will post them.

Thanks.

Alexander
1959 Hardtop
1960 Golde Top

| | |
| --- | --- |
| luGnutz62 | 09-19-2006 04:57 PM |
---
RE: Why you need a new detent plate.

I'll give it a shot and be glad to respond.
More on this later...

| | |
| --- | --- |
| WHUTATERD | 09-29-2006 06:05 PM |
---
RE: Why you need a new detent plate for your 61-63 T-Bi

There is also another area that seems to affect this problem..
The Trans control selector bearing (which is more like a rubber grommet or a bushing around the steering column at the firewall) plays a role in supporting the steering column. A worn "bearing" lets alot of the weight of the steering column rest on the shift linkage. This along with a worn detent, helps shift it right out of park. The "bearing"/bushing is available for 10 bucks or so at most of the parts houses.
MW

| | |
| --- | --- |
| thunderstruck | 04-11-2007 11:06 PM |
---
I had this problem when I bought my 62 about 2 years ago. Turns out the shift lever can also get rounded off (there is a tab that I believe hits the detent plate) and it gets rounded off on the back. After that happens the lever can roll right between gears. I was told to test it by rolling through the gears - if there is little or no resistance when you hit each one, it could be the lever. I replaced mine and it has been fine since.

Didn't mean to hijack your thread, just wanted to offer another point to look at if your car tries to get away from you.
| | |
| --- | --- |
| Alexander | 04-12-2007 08:33 AM |
---
With your new shift lever, if you put in this redesigned detent plate, you will feel a difference. The shift lever will hold firmer in park.
| | |
| --- | --- |
| luGnutz62 | 08-14-2007 02:41 PM |
---
Detent plate replaced

Well between general procrastination and other "honey-do" project work, I finally got around to replacing the detent plate on my '62. I also replaced the lever and rubber bushing, the collar (housing) seemed to be in pretty good shape so I didn't swap it out. WOW, what a difference. Nice clean engagement, positive stop between positions and a great piece of mind. It's been fun to cruise for the past couple months.

Nice job on the detent plate design...

The 58-60 replacement instructions worked fine as reference for my start & stop work. I did take a few reference snapshots during the dissassembly, unfortuantely focus was a bit unclear on a couple of the key differentiations between the 58-60 and the 62.

Well now on to rebuilding the front suspension, lower control arm bushings are shot- along with other loosey-goose parts.
Thanks to all who replied.
| | |
| --- | --- |
| Alexander | 08-14-2007 10:01 PM |
---
Glad the detent plate has cured your shifting problems. Thanks for the compliment on my design.

Are any pictures usable that you have? I would like to put up instructions for the '61-63.
All times are GMT -4. The time now is

12:19 PM

.
Powered by vBulletin® Version 3.6.8
Copyright ©2000 - 2018, Jelsoft Enterprises Ltd.
Any submissions to this site and any post on this site becomes property of Squarebirds.org . The webmasters reserve the right to edit and modify any submissions to this site. All material on this is site is copyrighted by the Squarebirds.org. Reproduction by any means other than for personal use is strictly prohibited. Permission to use material on this site can be obtained by contacting the webmasters. Copyright 2002-2016 by Squarebirds.org.