| | |
| --- | --- |
| askiles | 06-12-2015 12:35 PM |
---
'61 T Bird Custom 2 1/2" Flowmaster Exhaust

| | |
| --- | --- |
| bird 60 | 06-12-2015 08:33 PM |
---
Hi Andy, I must admit its location is different & looks neat.
But what's going to happen to the exhaust vapours especially when stationary & with the windows down?

Chris....From OZ.
| | |
| --- | --- |
| simplyconnected | 06-12-2015 08:56 PM |
---
I like his 'H' pipe. The guy did a nice job. I would go for another mounting hanger on each side if it were my car. - Dave
| | |
| --- | --- |
| askiles | 06-12-2015 11:29 PM |
---
I was impressed with his work. The exhaust is super solid, you can grab it and hang from it. I think another hanger would be over kill. Sure it wouldn't hurt, but is not necessary.
| | |
| --- | --- |
| simplyconnected | 06-13-2015 01:41 AM |
---
Let me be more specific. My Mustang has hangers on the 'H' pipe, then downstream at the Flowmasters. Believe it or not, your 2-½" exhaust system is heavy and five years from now it will be quite different. Been there. - Dave
| | |
| --- | --- |
| askiles | 06-13-2015 03:30 AM |
---
bird 60, it was a concern of mine, but hasn't at all been a problem. It must exit far enough back that it is not noticeable in the passenger compartment.

simply, my 2012 Mustang doesn't have hangers until the mufflers behind the axle. So all the way from the manifolds, past the x-pipe, over the axle, then mufflers, with 2 hangers there. Solid. ...and at this point it is all 3" exhaust. The exhaust hangers are neoprene not rubber, so I don't imagine over time they will sag more than they do now.
| | |
| --- | --- |
| simplyconnected | 06-13-2015 12:13 PM |
---
Here is a standard bolt-on replacement for my 2-½" system: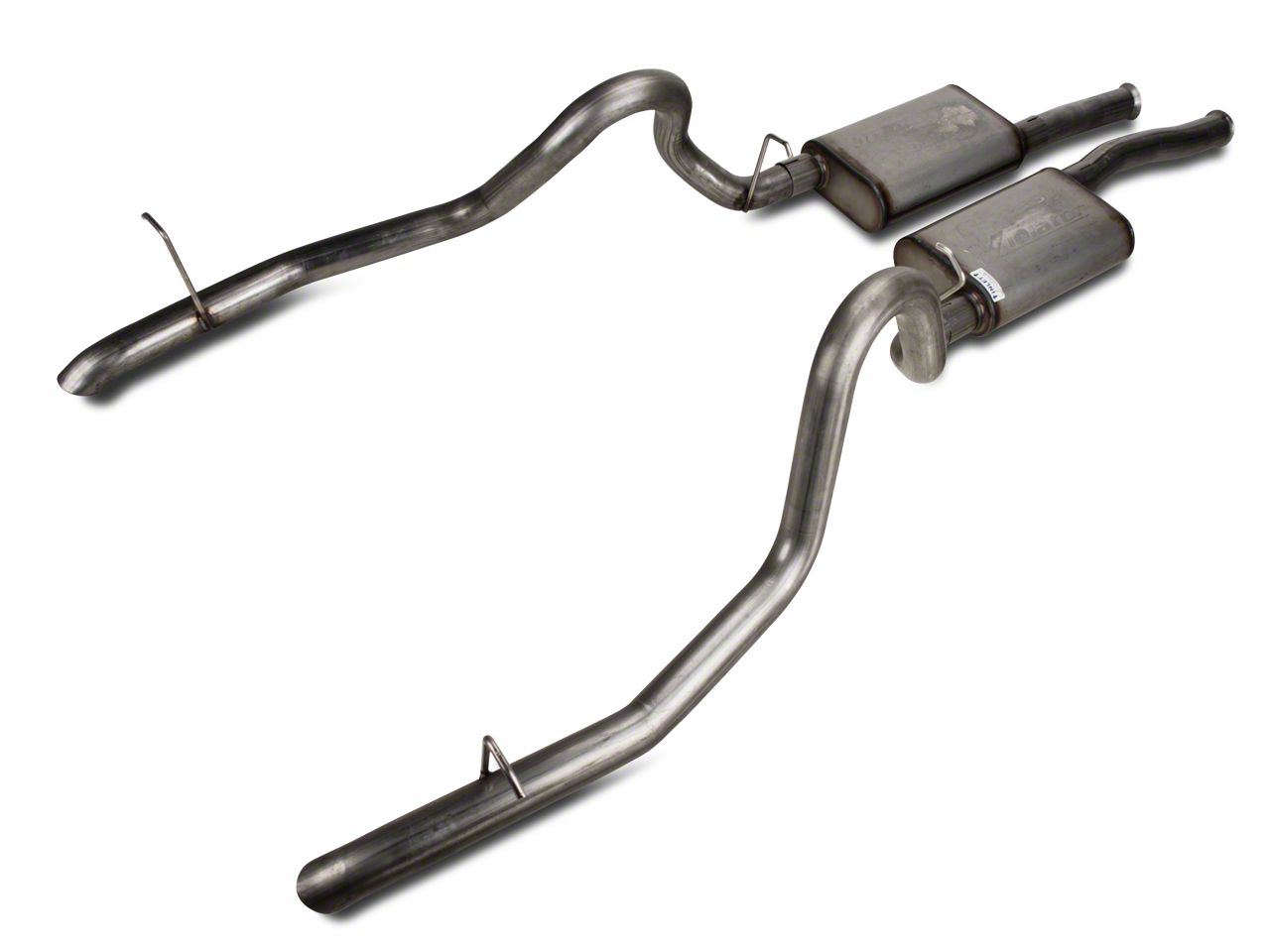 <--"from the Cats back."
Here is my "H" pipe (that bolts on between my headers and exhaust pipe):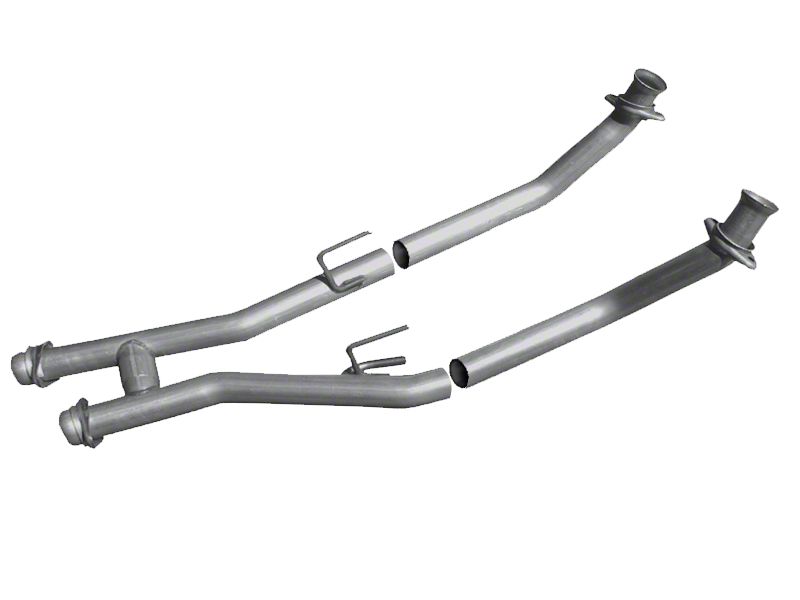 <--notice serious hangers. That's the way Ford did them and that's the way aftermarket companies follow, for a total of six hangers.
Check out how Magnaflow does their Mustang turndowns: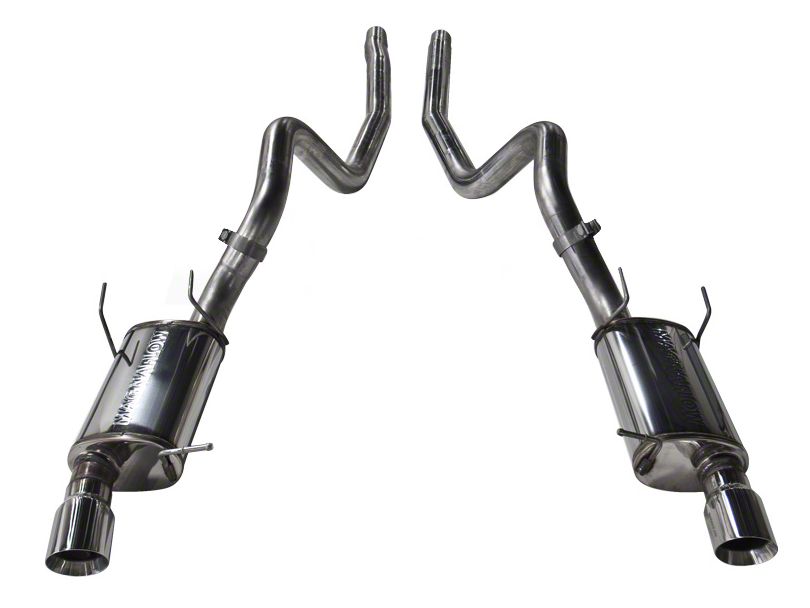 Again, this is for the same Mustang. Notice that they only weld on the ends of the mufflers. - Dave
| | |
| --- | --- |
| askiles | 06-13-2015 02:33 PM |
---
Yeah the upper exhaust is from the SN95 body style...they had 6 cats on some of those early ones as well. **** The lower is how my 2012 is as well. They are only after the axle, at the muffler. The T Bird's exhaust doesn't go that far. If I went over the axles I would have 1 more set of hangers after the axle for that pipe for sure.
All times are GMT -4. The time now is

05:04 AM

.
Powered by vBulletin® Version 3.6.8
Copyright ©2000 - 2018, Jelsoft Enterprises Ltd.
Any submissions to this site and any post on this site becomes property of Squarebirds.org . The webmasters reserve the right to edit and modify any submissions to this site. All material on this is site is copyrighted by the Squarebirds.org. Reproduction by any means other than for personal use is strictly prohibited. Permission to use material on this site can be obtained by contacting the webmasters. Copyright 2002-2016 by Squarebirds.org.