| | |
| --- | --- |
| NYsquarebird58 | 05-06-2012 11:27 AM |
---
Quote:
---
Originally Posted by Mickfly70 (Post 65147)
Marcelo, Sounds like she is a keeper. Not referring to "Lucille the Punisher" either.

I went to the ER this week too but is was to put 4 stitches in our 2 1/2 yr olds head. Just happened to be driving home in the tbird when I got the call so that was the vehicle I used to drive to the hospital.

Get better soon so you can get back to work showing us graphically how to put disks on our rides.
---
"Lucille the Punisher" - I LIKE it!
Sorry about the baby; hope he or she wasn't in too much pain. Sometimes going to the hospital is the scariest part. I was terrified as a kid and even as an adult I'm not a big fan.
| | |
| --- | --- |
| NYsquarebird58 | 05-06-2012 11:29 AM |
---
Here's a pic of the new booster and jeep bracket mated to the master cylinder. I have a chrome one, but decided it stood out to much in my engine compartment, so I picked up a zinc coated booster.
(big thanks to lawyercalif for the jeep bracket)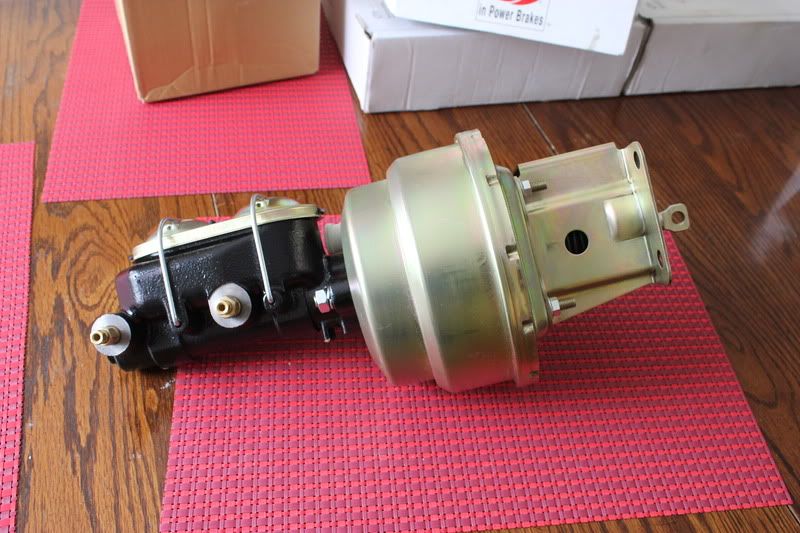 | | |
| --- | --- |
| NYsquarebird58 | 05-07-2012 10:28 PM |
---
UPDATE: Saw a specialist today; going in for surgery on Wednesday. They're going to remove the bone fragment, attach the tendon and insert a temporary steel rod to immobilize the joint for 6-8 weeks. After that, it's physical therapy. The doc says that once healed, I should regain 95% of the mobility back, but it'll take some time. He also said that I wont be wrenching on the T-Bird anytime soon :( Bummer.............
| | |
| --- | --- |
| gaffney1951 | 05-07-2012 11:07 PM |
---
Surgery ...

Sorry to hear about your injury. The harder you work at the PT the better your range of motion will be. the bird will be there when you heal up. Now you will have time to spend thinking up new projects for her. Cheers, Mike
| | |
| --- | --- |
| YellowRose | 05-07-2012 11:08 PM |
---
NYsquarebird58's Brake System Overhaul and Disc Brake Conversion

Hi Marcelo, I see you got the word on what they are going to do about that finger. Also that you will be out of commission for awhile as for working on your Tbird until you heal up. That is to bad because I know you wanted to get her on the road. Is there anyone close to you that could do the work for you while you supervised? That would be nice if there were. Don't push it though because you do want that finger to heal as best as it can.
| | |
| --- | --- |
| NYsquarebird58 | 05-07-2012 11:25 PM |
---
Mike, thanks for the kind words.

Ray, I was thinking about that, but I just don't know anyone locally that could help out. All I have left on the brakes is to mount the booster, MC, proportioning valve, plum the hard lines and do a brake job on the rear drums. I really wanted this bird ready for the June 10 car show. That car show is actually the reason why I went searching for a project car and came across a T-Bird. I hate missing deadlines. One way or another I'll get this bird there (even if I got to push it)
| | |
| --- | --- |
| Astrowing | 05-07-2012 11:29 PM |
---
Sorry to hear about the injury. It is a good reminder to all of us to be careful and double-think what we're fixing to do before we do it. Hoping for a speedy recovery!
| | |
| --- | --- |
| simplyconnected | 05-08-2012 02:42 AM |
---
Quote:
---
Originally Posted by NYsquarebird58 (Post 65188)
...I just don't know anyone locally that could help out...
---
Heyyyyyyyyyy... How bout MONIKA!!!
I mean, if she truuuuly loves you.... (LOL)
| | |
| --- | --- |
| DKheld | 05-08-2012 07:54 AM |
---
Been out of town - catching up on some of the threads

UGH - sorry to hear about the finger Marcelo. Guess you'll just have to use one foot and one hand while the finger heals.

X2 on Astrowings comments - everybody re-think and be safe!

( I think Dave is trying to get you in trouble - :D )


Eric
| | |
| --- | --- |
| tbirds8 | 05-08-2012 04:33 PM |
---
That would be a good way to get the parts off the table. Ha Ha Get well and I know your gona push it.
All times are GMT -4. The time now is

02:47 PM

.
Powered by vBulletin® Version 3.6.8
Copyright ©2000 - 2018, Jelsoft Enterprises Ltd.
Any submissions to this site and any post on this site becomes property of Squarebirds.org . The webmasters reserve the right to edit and modify any submissions to this site. All material on this is site is copyrighted by the Squarebirds.org. Reproduction by any means other than for personal use is strictly prohibited. Permission to use material on this site can be obtained by contacting the webmasters. Copyright 2002-2016 by Squarebirds.org.