| | |
| --- | --- |
| simplyconnected | 05-03-2012 01:28 AM |
---
This M/C is a 1-1/8" bore. I got one too (in chrome). We are trying them out to remedy our 'low pedal'. I just got mine two days ago and will let you know how it turns out. - Dave
| | |
| --- | --- |
| NYsquarebird58 | 05-05-2012 11:44 PM |
---
Had a little bit of a setback working on the T-bird today. I was test fitting my new 14"x6" wheel for clearance issues with the caliper when I went ahead and got myself injured. I was spinning the wheel with my right hand and as I turned my head to answer someone, I blindly placed my left hand on the wheel to try and stop it and that's when my pinky and ring finger got sucked in between the caliper and the rim. If I could, I'd kick myself in the rear end for being so careless. I spent the second half of the day in the ER. Turns out I fractured a piece off of my joint, nicked a nerve, but the part that worries me is that I severed a tendon. They've got me on antibiotics, and pain killers. I'll be seeing a hand specialist first thing Monday morning.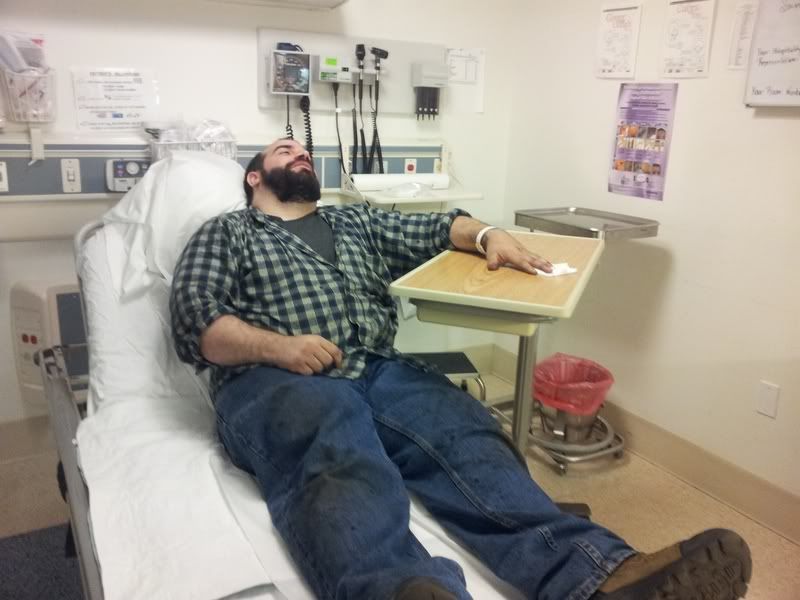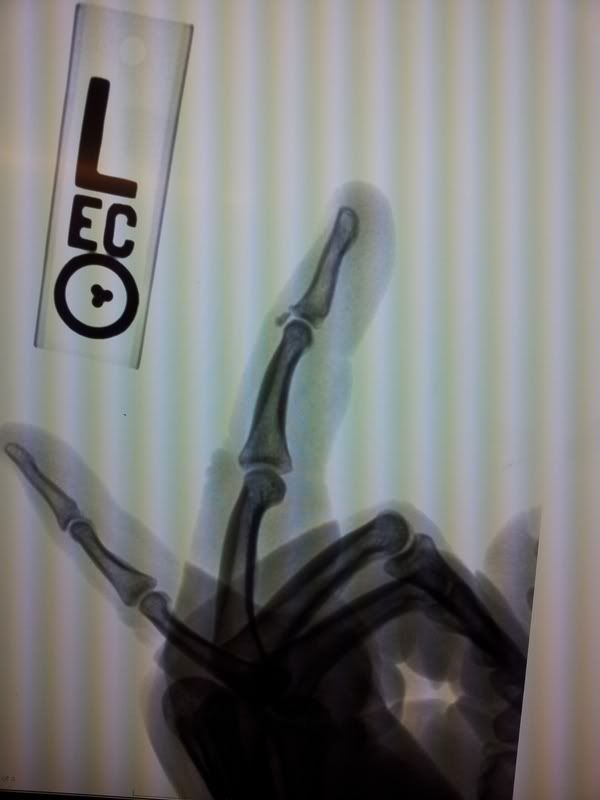 Before I got hurt I did manage to install the calipers, pads and the hoses, so the front end is pretty much done.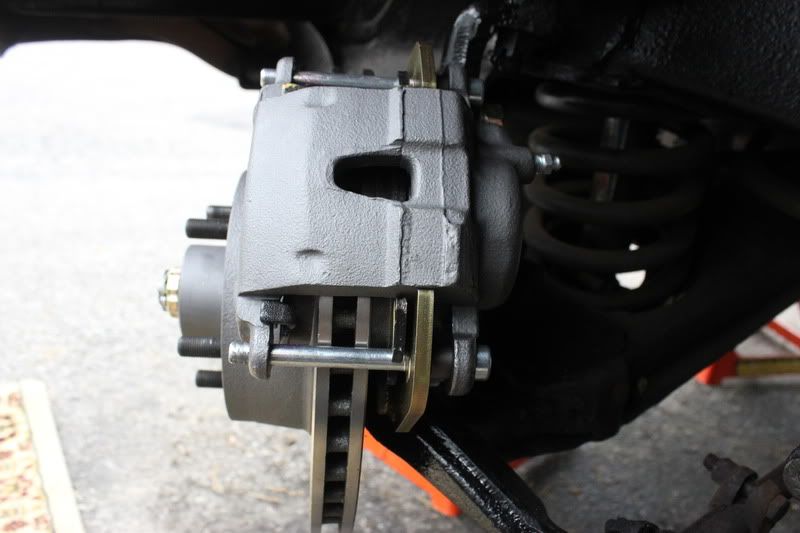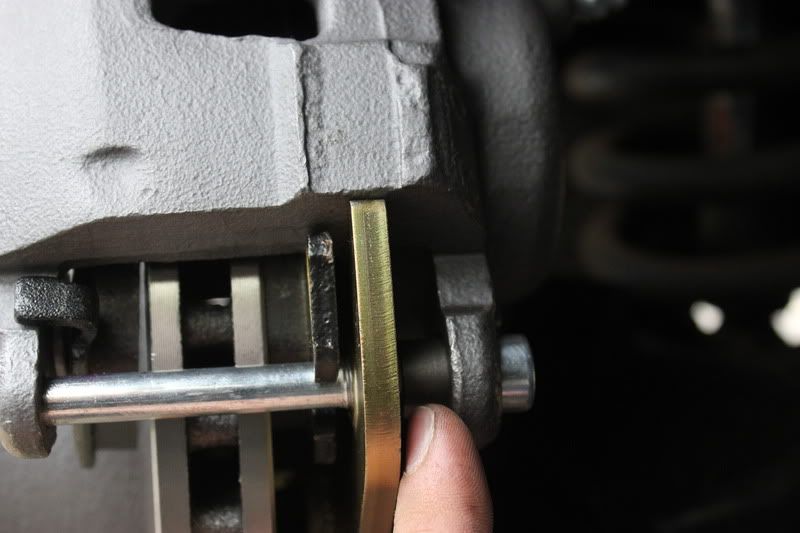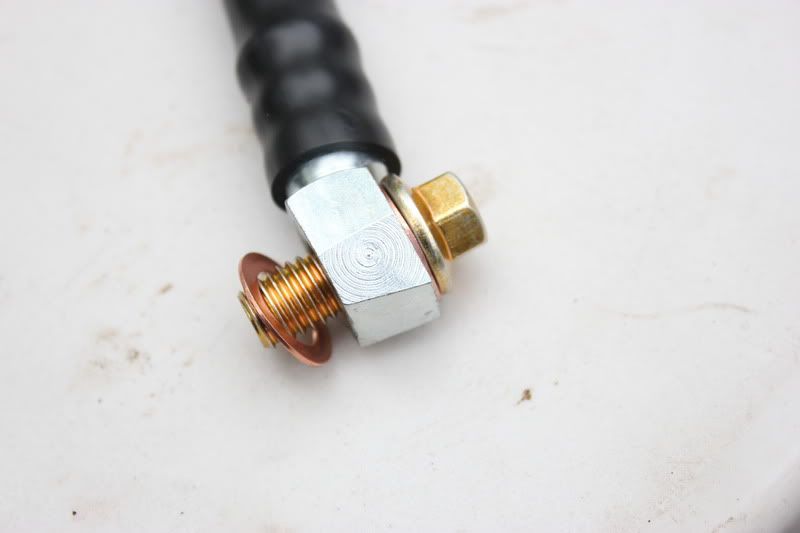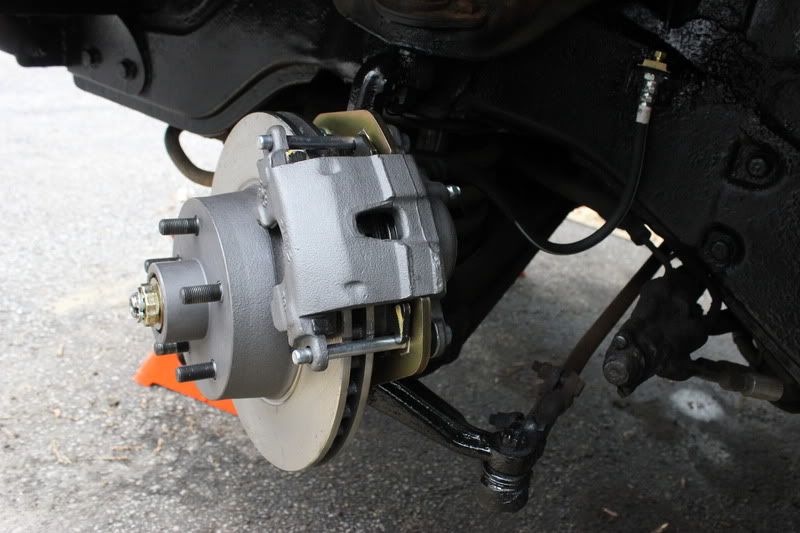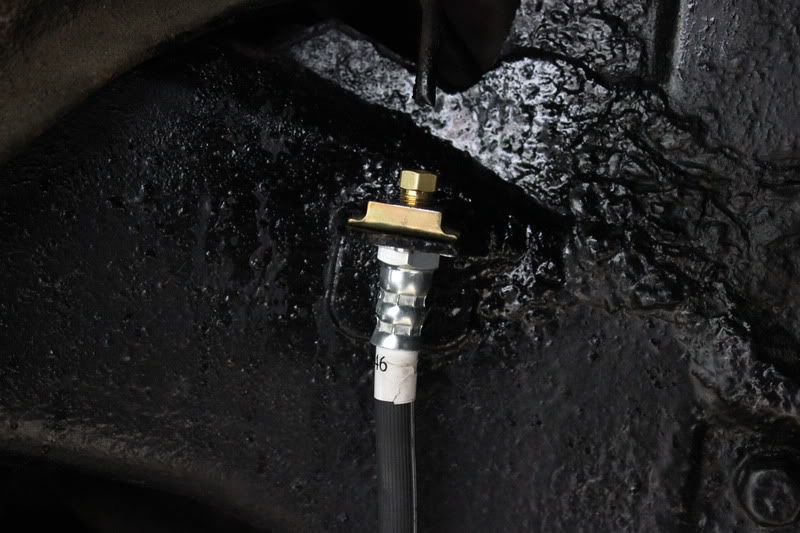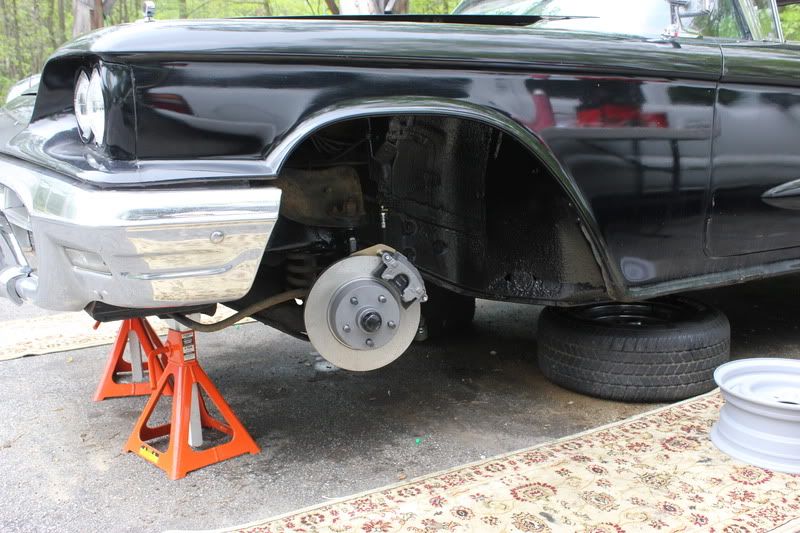 | | |
| --- | --- |
| Jimz Bird | 05-06-2012 12:10 AM |
---
Mannnnnnnnn wadda ya doin', eh?:D

After going through this back thing I know just how you feel.

Annoyed, but like big time annoyed. It is just something to slow you down but you'll get back to it. It IS aggravating.

Now, (just like everyone "hounds" me) do what the doc says and don't push it too much even though you want to.

That about sums it up, eh?

But on to better things. You're making great progress and this is bound to be a great resource thread.

Take care and if I didn't mention it - Mind the Doc;)
| | |
| --- | --- |
| lawyercalif | 05-06-2012 12:17 AM |
---
Sorry to hear about your injury. It's real easy to get distracted and get hurt. I've done it more times than I care to remember. Let's hope you heal quick and get back to those brakes soon.
| | |
| --- | --- |
| YellowRose | 05-06-2012 12:48 AM |
---
NYsquarebird58's Brake System Overhaul and Disc Brake Conversion

Marcelo, I am sorry to hear about your injury. I hope that you will heal quickly and be able to get back to working on the conversion. As was said, mind the Doc and do not try to do to much to soon. That conversion will wait until you are able to get back to it again safely. What you have accomplished is looking good though!
| | |
| --- | --- |
| simplyconnected | 05-06-2012 03:08 AM |
---
Quote:
---
Originally Posted by NYsquarebird58 (Post 65138)
Had a little bit of a setback working on the T-bird today... I fractured a piece off of my joint,..
---
OMG! That IS serious, Marcelo. Was GF with you taking the pic's? I hope she was. Women have that certain special ability to make it feel better.
I'm sorry to hear about your injury. Take things slow and follow your doctor's instructions. I kind of figured something was awry because you didn't call me today. I didn't know you stuck your finger in the wrong hole.
I KNEW I should have bought an expensive camera like yours. Mine doesn't have the all-important, 'X-Ray' feature, like yours. Good pics and good job.
Can you tell where on the caliper your new wheel is hitting? It should clear all the way like Ray's and Howard's. Maybe you have 'casting flash' that's sticking up, but I don't know.
Hey Richard, did Christine ever send you to the hospital???
Marcelo's car needs a gang sign and an infamous name like,
The Punisher.
Sorry, Marcelo. I had to go there... 'Here, you hold this while I hit it with a hammer...' - Dave
| | |
| --- | --- |
| Richard D. Hord | 05-06-2012 08:14 AM |
---
(Quote) Hey Richard, did Christine ever send you to the hospital???
Marcelo's car needs a gang sign and an infamous name like,
Dave (QUOTE)

Hey Marcelo,
Hope everything is OK! These old girls (Thunderbirds) have a bad tendency of bitting:eek: especially if they think you are spending to much time with another women!
Richard D. Hord

P.S. Dave, "Christine" has bit a couple of times but just a bite!
| | |
| --- | --- |
| NYsquarebird58 | 05-06-2012 10:56 AM |
---
Thanks guys!! The most frustrating thing about this, is not knowing when I can get back to the T-Bird. Iíve got a month until the big car show and I still have plenty to do. Iím not gonna push it though; I want this to heal right.

Thankfully my girlfriend was right inside (sheís the best). We rushed over to the ER and she was by my side through it all (even when they were stitching me up). When we got back, it was dark and I still had all my tools and parts strewn about on the driveway just the way I left them. She put them all away for me and went around with a flash light to make sure nothing was left behind.

Iíll keep you guys posted; hopefully the specialist gives me good news tomorrow.

(Dave, Iíll be calling you tonight when I get back from the Christening.)
| | |
| --- | --- |
| Mickfly70 | 05-06-2012 11:19 AM |
---
Marcelo, Sounds like she is a keeper. Not referring to "Lucille the Punisher" either.

I went to the ER this week too but is was to put 4 stitches in our 2 1/2 yr olds head. Just happened to be driving home in the tbird when I got the call so that was the vehicle I used to drive to the hospital.

Get better soon so you can get back to work showing us graphically how to put disks on our rides.
All times are GMT -4. The time now is

07:32 AM

.
Powered by vBulletin® Version 3.6.8
Copyright ©2000 - 2018, Jelsoft Enterprises Ltd.
Any submissions to this site and any post on this site becomes property of Squarebirds.org . The webmasters reserve the right to edit and modify any submissions to this site. All material on this is site is copyrighted by the Squarebirds.org. Reproduction by any means other than for personal use is strictly prohibited. Permission to use material on this site can be obtained by contacting the webmasters. Copyright 2002-2016 by Squarebirds.org.