| | |
| --- | --- |
| NYsquarebird58 | 03-05-2012 08:24 PM |
---
Question Regarding Dog Dish Wheels

Eventually I'd like to change the wheels and tires on my bird. I really like how Ray's dog dish setup look on YellowRose. I'd like my wheels to be red with a set of Coker thick white walled tires.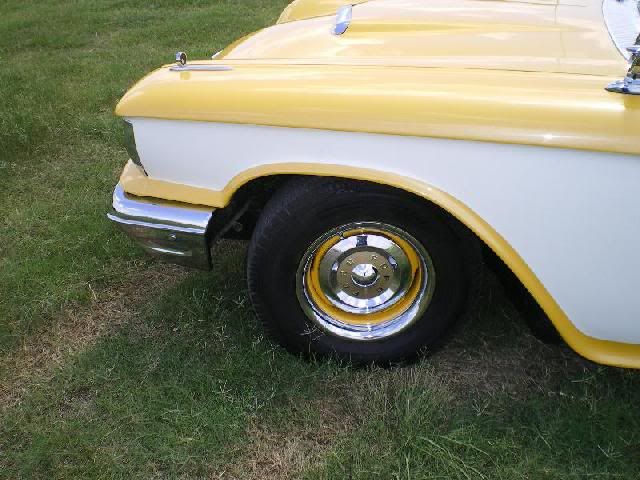 Below are the wheels that came in the trunk of my '60. They are the same size and look very similar, but they appear to be from two different sets and I'm not sure if the subtle differences in appearance will matter with what I want to accomplish.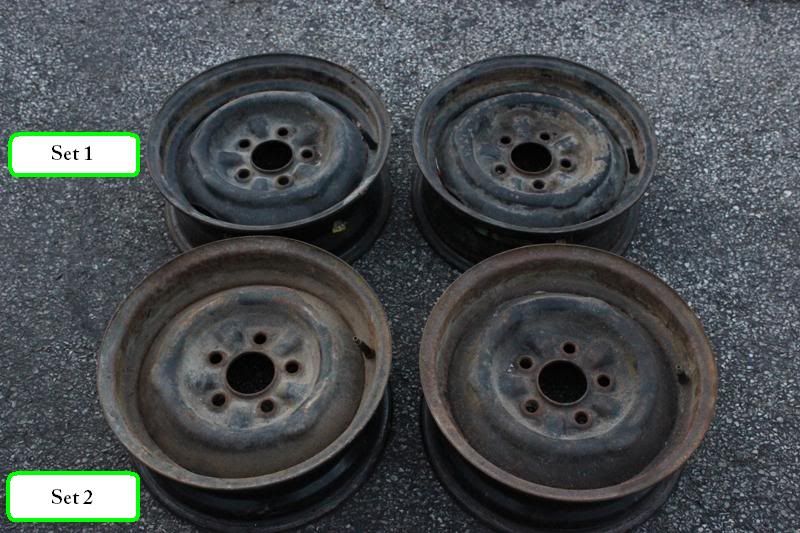 Here's a shot from the side.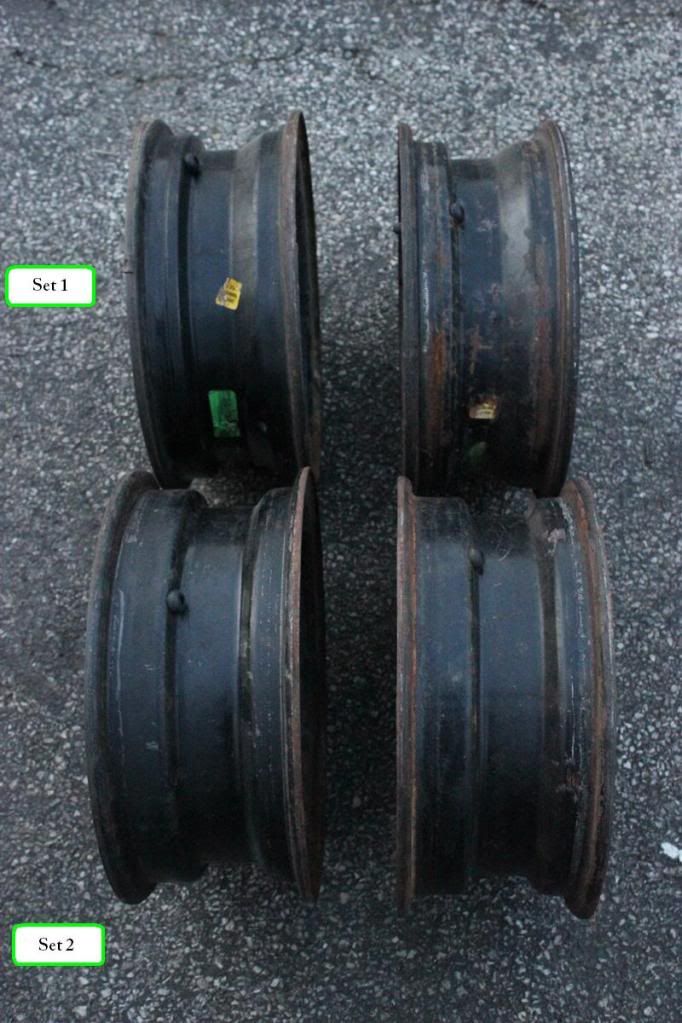 All four wheels have three "nubs" which I assume are to mount the dog dish hub caps.



Am I OK here or do I need to source a different set of steel wheels?
| | |
| --- | --- |
| lawyercalif | 03-05-2012 09:18 PM |
---
They look like they would work. I can't see the difference between them.
| | |
| --- | --- |
| simplyconnected | 03-05-2012 09:26 PM |
---
Ray's wheels are 14"
disk brake
Mustang wheels he had powder coated. Now that he is finally installing the disk brakes, his wheels won't change. They are the same size as original but they have a different contour inside.
Look at the bottom of this wheel in the snow. Notice that one side has a big bulge. That's the back, for the caliper. To prove it's the back, you can see the stem hole on the left. - Dave
| | |
| --- | --- |
| jopizz | 03-05-2012 10:00 PM |
---
The bottom set are the standard Thunderbird non-vented wheels. The top set are vented wheels which were used on a number of different Ford products. I believe they are slightly thinner. At least the vented ones that I have are. Both will work on drum brakes. Neither will work on disc brakes. They will work fine with dog dish caps but the vented and non-vented difference will be noticable.
| | |
| --- | --- |
| YellowRose | 03-06-2012 04:10 AM |
---
Question Regarding Dog Dish Wheels

If you have 14" rims you will want five 14" vented disc brake ready rims which look like the one with the tape measure stuck in it. Why five? Well, if you have a flat on the front you want the spare to be a disc brake ready rim just like the one you are going to have to take off so it will fit. And when you rotate your tires, you want your back ones to be disc brake ready also. That tape measure, as I recall, shows 3 1/2" of depth on the back side.

I found mine at a local car parts yard. One of their employees and I went out and either pulled some of them off a disc brake equipped Ford car, to make sure we got the right rims, or out of their rim boneyard and compared them to what we just pulled off that disc brake equipped Ford. One of them I got out of the trunk of a '79 Lincoln Versailles and they are exactly what you are looking for IF you can still find a '77-'80 Versailles. Those of you who are Paid Members, look in the Members Conference Forum. I put a list of rims that I am told that are disc brake rims that will work on our Squarebirds.

Yes, those nubs are for holding dog dish hubcaps in place and you will want to make sure your rims have them if you are going to go the dog dish route as I did.
| | |
| --- | --- |
| tbirds8 | 03-06-2012 06:12 PM |
---
I have none vented ones on my 60 but in the trunk were the mounted snow tires on vented and skid chains. I remember those days. It was fun back then.
| | |
| --- | --- |
| NYsquarebird58 | 03-06-2012 11:03 PM |
---
I'm having a hard time narrowing down my search on ebay. Do we know what years and models would work for the disk brake conversion? We don't really have bone yards where I live. They're called "dismantling yards" and they don't let you walk around in them anymore, so the internet may be my best bet.
| | |
| --- | --- |
| YellowRose | 03-06-2012 11:37 PM |
---
Question Regarding Dog Dish Wheels

Hi Marcelo, look in the Members Forum. You will find that information there as to what rims to look for.
| | |
| --- | --- |
| NYsquarebird58 | 03-06-2012 11:43 PM |
---
Quote:
---
Originally Posted by YellowRose (Post 63191)
Hi Marcelo, look in the Members Forum. You will find that information there as to what rims to look for.
---
PERFECT! Thank you!
| | |
| --- | --- |
| tbird430 | 03-07-2012 04:23 PM |
---
I read here & elsewhere that '90s model Ford Ranger wheels work fine, but I'm not sure if the dog-dish center caps will fit on them. :cool:
All times are GMT -4. The time now is

04:43 AM

.
Powered by vBulletin® Version 3.6.8
Copyright ©2000 - 2018, Jelsoft Enterprises Ltd.
Any submissions to this site and any post on this site becomes property of Squarebirds.org . The webmasters reserve the right to edit and modify any submissions to this site. All material on this is site is copyrighted by the Squarebirds.org. Reproduction by any means other than for personal use is strictly prohibited. Permission to use material on this site can be obtained by contacting the webmasters. Copyright 2002-2016 by Squarebirds.org.