| | |
| --- | --- |
| Rock&Roll Firebird | 05-05-2013 05:02 PM |
---
Water pump exchange

Hello guys, long time no see... I'm just at the beginning of putting my newly purchased '59 t-bird into a shape and as the bird overheats a bit, I need to start with cooling. There's a loose fan belt which I'll exchange, but presently I need to ask the more experienced of you about two things:
a) is there an easy way to determine if the water pump is malfunctioning somehow or does not work at 100 %? Either by spinning it by hand to see if it goes loose or hard or so... There's a 15% off discount on cooling and gas systems at Mac's parts till the end of May and as the $110 is not that high price, I'm thinking about buying the pump either to exchange it or to keep it as a spare one (I'm from Europe so keeping some particular parts could come handy when it comes to an exchange).
b) is it worth to purchase the '61-'66 6-blade fan instead of the original? Does it work better? Any experience?
Is
this
the one I could use? Does it fit or it needs to be adjusted somehow?
Thanks a lot for any of your help!
| | |
| --- | --- |
| JohnG | 05-05-2013 05:12 PM |
---
to the best of my knowledge the water pump only has two items that can deteriorate: the seal and the bearing.

A worn bearing would be evidenced by excessive play in the shaft (perhaps see shop manual for details). A bad seal will allow leakage out the seap hole on the bottom side of the pump.

You can get your current one rebuilt for $80 and get a year warranty (Arthur Gould in NY). They glass bead it so you can paint it nicely, as well.

6 blade fan is a +++.

John
| | |
| --- | --- |
| DKheld | 05-05-2013 05:40 PM |
---
I agree with John - the vanes to pump the fluid can wear but you hardly ever see it - most of the time it's the bearing or the seal. If your belt is squealing and not just loose the bearing may be locking up. Fan should spin fairly easy with the belt off. The damper will also make a squealing noise if it is going bad. It could be slipping and not turning the water pump like it should. Bad dampers are not common either but that's the kind of luck I have.
I installed a NOS heavy duty flex fan from a 1977? Tbird with the 400 engine (shown below). The Tbird fan is driven off the water pump which is driven from the damper on the crankshaft. The added resistance from the big fan ruined my damper (made it separate). The link to the fan you posted looks a lot less aggressive than the one I had so it may work.
I should have installed 2 belts and a different pulley to the waterpump before adding the big fan. The 5 blade style fans were standard on the air conditioned cars however they have a dual pulley on the waterpump - just something to keep in mind - maybe someone here is running a 5 or 6 bade fan on the standard set up and will be able to let you know if they have had any trouble - pretty sure I have seen them just can't say for sure as I have not done it.
Most of the time overheating is due to a clogged radiator.
Eric
(This was after I added a dual pulley to the water pump but you can see the fan. There was only about 1/4 inch clearance between the back of the blade and the front of the expansion tank - probably the biggest fan that will physically fit in there - :eek: - had to buy a shorter fan spacer too)
| | |
| --- | --- |
| JohnG | 05-05-2013 06:32 PM |
---
I have had both 5 and 6 blade fans on stock water pumps. No problems. I have a shroud but have never gotten around to installing it.

I have a vague recollection that Ford installed a 6 blade fan on some 1960 TBirds when the air conditioning option was included.

I also seem to remember some discussion on Squarebirds involving a higher capacity waterpump.
| | |
| --- | --- |
| Ca58tbird | 05-05-2013 10:29 PM |
---
Rock&Roll, my first guess is that your water pump is OK, at least if you don't have leakage out of the weap hole, and or the pump is not squealing. So what the other guys have advised is good advice. However if you do want to buy a new pump, perhaps you might want to check out Rockauto.com. They list a 59tbird 352 water pump for $67. You can check out their advertisement in the "Parts for Sale" catagory of this Squarebirds.org user forum and find Rock Auto's ad that gives 5% off.
| | |
| --- | --- |
| KULTULZ | 05-06-2013 08:57 AM |
---
FOMOCO experienced severe overheating problems with the 58/59 BIRD and it was finally addressed on 1960 model run with a heavier radiator, five blade fan and shroud (AC equipped).
-1960 BIRD COOLING SYSTEM UPGRADE(S)-
As I am overly anal, I would choose to have the original pump rebuilt (closely inspect impeller condition) if it has the correct Casting I.D. Nos.
A radiator over the years will build scale deposits in the core and the cooling efficiency will suffer, especially if the cooling system has not been serviced properly. If the core appears good (no obvious corrosion/leakage), most any certified radiator shop can perform a flow test. Have it re-cored (MODINE) to keep the OEM appearance.
If severe overheating is a problem (after fan shroud and blade upgrade), consider a trans cooler and a free flowing thermostat.
| | |
| --- | --- |
| JohnG | 05-06-2013 11:19 AM |
---
Gary, I gotta ask: what is a free flowing thermostat and where do you get one?

It is often struck me that a standard thermostat, while open, is a real obstacle to flow.

Thanks!

John
| | |
| --- | --- |
| simplyconnected | 05-06-2013 06:57 PM |
---
Quote:
---
Originally Posted by JohnG (Post 74918)
Gary, I gotta ask: what is a free flowing thermostat and where do you get one?

It is often struck me that a standard thermostat, while open, is a real obstacle to flow.
---
It's even worse than that, John...
"High-flow thermostats from Milodon greatly aid the correct functioning of a high-performance cooling system. They're engineered to warm the engine to a proper operating temperature without making it run hot enough to lose power. Also, the "Balanced Sleeve" design equalizes the pressures exerted on the thermostat. This counters the undesired effect of increased flow from a high-volume water pump, which actually tends to hold a stat closed."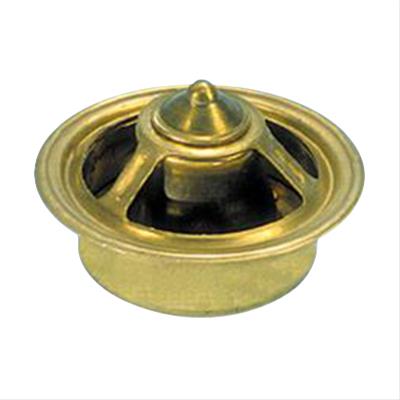 Summit price is $14.95. - Dave
| | |
| --- | --- |
| JohnG | 05-06-2013 07:48 PM |
---
you have my attention. Anything that adds to more efficient cooling of the Squarebird motor is important.

so do you guys use either these thermostats and/or water pumps?
All times are GMT -4. The time now is

08:30 AM

.
Powered by vBulletin® Version 3.6.8
Copyright ©2000 - 2018, Jelsoft Enterprises Ltd.
Any submissions to this site and any post on this site becomes property of Squarebirds.org . The webmasters reserve the right to edit and modify any submissions to this site. All material on this is site is copyrighted by the Squarebirds.org. Reproduction by any means other than for personal use is strictly prohibited. Permission to use material on this site can be obtained by contacting the webmasters. Copyright 2002-2016 by Squarebirds.org.