| | |
| --- | --- |
| chris58 | 06-10-2016 08:46 AM |
---
zero spark to the coil

Hi all, I'm in the process of firing the 58 back up again and for some reason I'm getting zero spark to the coil.
I've triple checked all distributor wires to and from the ballast resister and everything is where it should be.
I've tested by running a plug straight from the coil lead and earthed it with no luck.
This system was brand new and did work previously.
Is there anyway to check with a test light or something to see what's going on.
It's a Mallory system and I'm not sure what else to check.
Cheers Chris.
| | |
| --- | --- |
| jopizz | 06-10-2016 11:37 AM |
---
Maybe your terminology is just wrong but you should be getting spark FROM the coil not TO the coil. Try running a wire directly from the battery + to the coil + and see if it starts. You should have 12V at startup coming directly from the solenoid. The ballast resistor only comes into play after it starts and the key goes back to the ON position. You need a test light or volt meter to tell for sure. You can make a simple test light using wire and a 12V bulb.

John
| | |
| --- | --- |
| DKheld | 06-10-2016 12:06 PM |
---
| | |
| --- | --- |
| simplyconnected | 06-10-2016 02:44 PM |
---
Chris, I know you hate electrical problems but you need to get into this. BTW is this a Mallory Unilite module in stock distributor?
Here's the business end of all spark: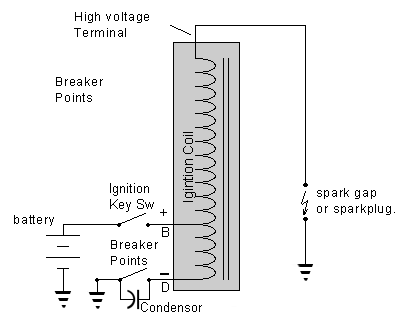 Notice the two posts are labeled (Battery) + and (Dizzy) -.
I'm going to repeat John's advice: Use a jumper wire from your battery to the 'B' coil terminal. Turn the key to start the car. As long as your jumper is there the engine will continue to run. This is a test so don't leave your jumper on more than fifteen minutes because the coil will get too warm.
If the car starts, your wires from the ignition switch (including the ballast resistance) are open somewhere. In this case, pull your jumper off and use a 12-volt test light to find the 'open'. With the key on (not 'start') your coil should show +12, with your light on ground and the other prod on the coil (+). If not, keep the light on ground and move the other prod to your ballast resistor. Check both sides. If nothing, keep going back to your Key switch.
Eventually, the light will shine. 'Looks' mean nothing. It's possible that any connection can be loose. The key switch is fed from the headlight switch. I've found broken and loose connections between the two.
I make my own test lights using a simple dash bulb (like a #57) with two small but long wires soldered to the bulb and wrapped in black tape. You can get fancy and install alligator clips to the ends. Store bought LED and neon test lights simply do not tell the truth. Incandescent bulbs do because they actually put a load on the circuit. This should find any loose connection or broken wire.
If you have voltage at the coil + and it still won't fire, check the coil's minus side to ground with your light. If it pulses when the starter is running, you probably have a bad coil. it's rare but possible. Try using a different temporary coil. - Dave
| | |
| --- | --- |
| chris58 | 06-10-2016 06:41 PM |
---
Thanks guys, yes John that's what I meant, there's no spark coming from the coil and I've checked the coil positive with a test light and it seems I've got no power coming from the 12v ignition wire.
Haha Dave, your getting to know me to well, I really hate electrical problems.
What I am wondering now is weather the problem I had the other day with the lower dash steel trim arcing on the circuit breakers has burnt something out.
I have all lights and accessories but my clock stopped working immediately after that happened so there could be more to it.
My ignition system is all Mallory promaster as I've got the Windsor in there now, all brand new and was operating perfectly when I did all the test running before removing for paint.
Cheers guys, looks like I'm spending an afternoon under the dash again, my favorite job haha.
| | |
| --- | --- |
| Dakota Boy | 06-10-2016 06:58 PM |
---
I have an MSD distributor, and the magnetic pickup in the bottom of it just decided to die earlier this year.

No spark.

Replaced it for 30 bucks and I was back in business again.
| | |
| --- | --- |
| simplyconnected | 06-10-2016 09:18 PM |
---
If you examine the wiring diagram you may notice that the ignition circuit has NO fuses or circuit breakers. This was engineered as such so that a stupid fuse cannot prevent you from getting off the railroad tracks. Ford would rather burn up a wire before interrupting your ignition.

If those added circuit breakers have long posts, trim them down and keep them far away from the body metal. Again, check the connections for tightness. Sometimes I use split ring lock washers. Even if the nut comes loose the lock washer is a spring that helps keep the connection tight. - Dave
| | |
| --- | --- |
| chris58 | 06-10-2016 11:55 PM |
---
Ok, I've checked the hot wire (red wire with green tracer) at the ignition switch and nothing, completely dead.
What are my options from here, bear in mind I'm in Australia so parts are pretty scarce.
Thanks Chris.
| | |
| --- | --- |
| jopizz | 06-11-2016 12:01 AM |
---
Is that with the key in the ON position. That's the only time that wire has power.

John
| | |
| --- | --- |
| chris58 | 06-11-2016 12:03 AM |
---
Yeah it is, even tried cranking the engine to make sure and nothing.
Is it just a matter of removing and replacing or could it be another issue somewhere else.
All times are GMT -4. The time now is

10:10 PM

.
Powered by vBulletin® Version 3.6.8
Copyright ©2000 - 2018, Jelsoft Enterprises Ltd.
Any submissions to this site and any post on this site becomes property of Squarebirds.org . The webmasters reserve the right to edit and modify any submissions to this site. All material on this is site is copyrighted by the Squarebirds.org. Reproduction by any means other than for personal use is strictly prohibited. Permission to use material on this site can be obtained by contacting the webmasters. Copyright 2002-2019 by Squarebirds.org.