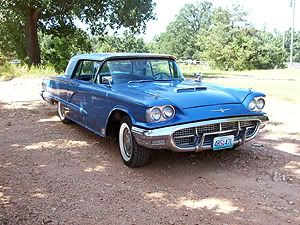 I've put in a replacement windshield, removed the rust in the doors, and had it repainted, otherwise it's almost all original!
The chrome was amazing! I was lucky!
I'm going to put the radio antennae on the trunk, instead of leaving it on the fender. (I just like how that looks.)
I'm needing to replace the padded dash, side mirrors, head liner. I also need to get the radio, temp gauge, fuel gage, and clock and wipers to working again.
Need to upgrade some more of the metal mouldings and trims on the doors and console, they're pretty worn.
Got some of those replaced by Nick's T-Bird's. Highly recommend them!